How to make expensive nut butters at home
Though supermarkets and natural food stores boast a growing array of yummy nut butters, you can save big bucks by making your own nut butters at home. Here's how.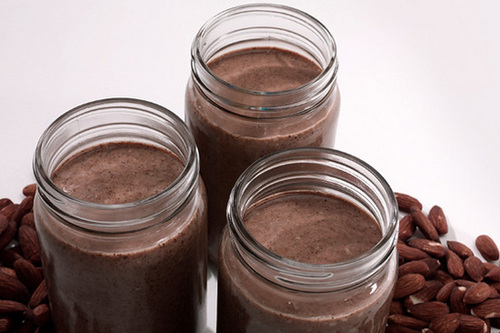 Freshly ground nut butters are as close as your food processor. Not only do freshly ground nut butters boast richer flavors, making nut butters at home gives you the opportunity to enjoy them without any added sugar, salt or preservatives. Though homemade nut butters are more perishable than store-bought, you can make them in smaller batches and store them in the refrigerator. For easier spreading, let them return to room temperature before using.
How to make nut butters at home
Toast nuts for more nut butter flavor
Regardless of the nut you choose, raw nut butters are divine but toasting the nuts before grinding will give you fab flavor not found at your local grocery store. Simply toast nuts on a dry baking sheet at 400 degrees F. until nuts are fragrant and lightly browned, 5 to 10 minutes. Keep on eye on them because nuts easily scorch. Let nuts cool enough to handle before grinding.
Grind nuts in a food processor for yummy nutty butter
There is a 2 to 1 ratio of nuts to nut butter. To make 1 cup of nut butter, start with 2 cups of shelled nuts. For all nut butters, simply place nuts in a food processor and grind. Since different nuts have varying oil contents, you may have to add a bit of canola oil to achieve a buttery, rather than crumbly, consistency. If available, try same flavor nut oils. For example, add a little almond oil to the food processor when making almond butter.
Nut butter guidelines
The large array of nuts lends a wide variety of nut butters you can make. Nut butters and jelly may be a standard pair, but nut butters have far more culinary versatility for both sweet and savory dishes.
Almond: Raw whole almonds with skins will blend into a brown-flecked spread. Process for 3 to 4 minutes. Try spreading almond butter on whole grain bread and top with thin slices of brie and apple slices.

Brazil Nut: A rich source of vitamin E, brazil nuts become a scrumptious butter in about 3 minutes. Thin with water for a thick creamy sauce for pasta, vegetables, chicken or fish.

Cashew: Grind cashews for 2 to 3 minutes for a smooth butter that is particularly delicious paired with crushed fresh blackberries on whole grain toast. You can also use cashew butter in place of tahini.

Hazelnut: Grainy and sweet, hazelnut butter comes together in about 3 minutes. For a delectable dessert spread (similar to the wildly popular Nutella), process with a generous drizzle of dark chocolate syrup. You may need to add a little water to make a pourable sauce.

Macadamia: High in fat and the smoothest of butters, it purees in about 2 minutes. Blend with cream cheese or sour cream for a nutty yummy dip.

Peanut: The standard of nut butters, making peanut butter at home will revive your love of peanut butter sandwiches. Grind for about 2 minutes. Turn peanut butter into a spicy peanut sauce for pasta or dip for chicken satays.

Pecan: A tad bitter because of the skins, pecan butter is a divine addition to savory dishes. Serve as a complement to meat or lamb dishes. Pecans will process in 1 to 2 minutes.

Pistachio: One of the more interesting nut butters, pistachios blend into a crumbly paste that can be blended with cream cheese for a nutty cheesecake or a simple nut dip. Grind for 3 to 4 minutes.

Walnut: Walnuts blend into butter in 1 to 2 minutes. Thin with water or cream to create a scrumptious sauce for pasta, chicken, fish or vegetables.