Simple suppers: 3 Vegetarian casserole recipes
Whether you are a meat eater or strict vegetarian, comfort food is king when the weather turns for the worse or you simply need soul-satisfying food after a bad day. Vegetarian casseroles are a hearty yet healthy alternative to meat-heavy entrees and can be an easy, stealth, and delicious way to introduce more vegetables into your family's diet. Here are three scrumptious vegetarian casserole recipes.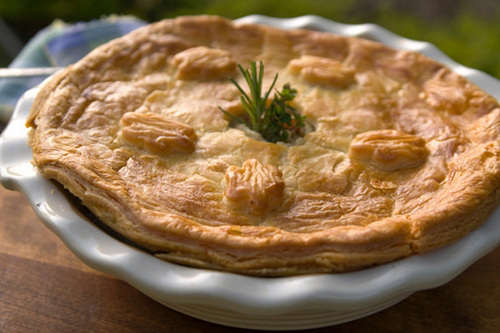 Vegetable pot pie
Serves 6
Tasty, colorful vegetables topped with a tender crust, this vegetarian pot pie really hits the spot after a long day of play in the cold and snow. In place of chicken, edamame serves as a plant-based source of wholesome protein.
Ingredients
2 tablespoons unsalted butter
2 tablespoons olive oil
1 small onion, finely chopped
1 small red bell pepper, seeded, chopped
2 cups cauliflower florets, coarsely chopped
1-1/2 cups diced carrots
1 cup diced celery
3 cups shelled edamame
1/2 cup all purpose flour
2-1/2 cups low-sodium vegetable broth
1 cup half and half
Salt and freshly ground black pepper
1 package (for 2 pie crusts) refrigerated pie dough or homemade pie dough
Directions
Preheat oven to 350 degrees F. and grease an 11x9-inch casserole dish.
In a large pot over medium heat, heat butter and oil until butter is melted, swirling pan to coat the bottom. Add onion, bell pepper, cauliflower, carrots, celery and cook, stirring occasionally, for 7 minutes or until vegetables are tender. Stir in edamame.
Sprinkle vegetables with flour and stir to coat. Whisk together broth and half and half and slowly stir into pan. Season with salt and pepper.
Bring mixture to a low boil and cook, stirring often, until liquid is thickened.
Roll pie dough into a 12x10-inch rectangle, using both pie doughs and trimming to fit, if necessary. Spoon vegetable filling into a prepared casserole dish. Place dough over filling and crimp edges against the dish. Bake for 1 hour. Serve warm.
Baked whole wheat pasta with broccoli and roasted tomatoes
Serves 8
Baked pasta dishes always hit the comfort food spot more readily than a plate of loose noodles. Whole wheat pasta, toothsome pasta and tender chunks of roasted tomatoes give this vegetarian casserole a heartiness that even meat-lovers will enjoy. Bonus: Freeze the leftovers in individual serving containers for a fast lunch.
Ingredients
8 ounces broccoli florets
1 pound whole wheat penne
1 tablespoon olive oil
1 onion, chopped
3 garlic cloves, minced
1 (28-ounce) can fire roasted diced tomatoes, drained
1/2 cup red wine
Salt and freshly ground black pepper to taste
3/4 cup pesto
13/4 cups shredded fontina
1/4 cup grated Parmesan
Directions
Preheat oven to 400 degrees F. Spray a 13x9-inch baking dish or aluminum pan with cooking spray.
Bring a large pot of salted water to a boil. Add broccoli and cook just until broccoli is tender. Use a slotted spoon to transfer broccoli to a cutting board and coarsely chop. Set aside. Add pasta to the boiling water and cook for 2 to 3 minutes less than package directions (pasta will continue to cook in the oven). Drain and set aside.
Heat oil in a large pot over medium heat. Add onion and cook, stirring often, until onion is softened. Add garlic and cook, stirring, for 1 minute.
Stir in tomatoes, wine, salt and pepper. Bring to a simmer and allow to cook for 5 to 6 minutes or until almost all of the liquid evaporates. Stir in broccoli and pesto and remove from heat. Toss pasta with sauce and cheese.
Pour pasta into prepared baking dish and bake for 15 minutes or until lightly browned on top.
Vegetarian tamale pie
Serves 8
Ingredients
2 tablespoons olive oil
1/2 onion, chopped
Salt and freshly ground black pepper
1 teaspoon ground cumin
1 teaspoon ground coriander
1 teaspoon dried oregano
2 cloves garlic, minced
2 tablespoons grated lime zest
2 green onions, chopped
1 (15-ounce) can diced tomatoes
1 (8-ounce) can diced green chiles
2 cups sliced black olives
3 cups water
1 cup coarse cornmeal
1 teaspoon paprika
1 cup corn kernels
3/4 cup shredded Mexican blend cheese
Directions
Preheat oven to 350 degrees F. Spray a 11×7-inch baking dish with cooking spray and set aside.
Heat olive oil in a large skillet over medium high heat. Add onion and a little salt and pepper. Cook, stirring often, until onions are softened. Stir in cumin, coriander, oregano and garlic, cooking for 1 minute.
Stir in lime zest and green onions, cooking for 1 minute. Add tomatoes, chiles and olives, stirring to combine. Cook until heated through. Reduce heat to low and keep warm.
Meanwhile, bring water to a boil in a medium saucepan. Add cornmeal and season with salt and pepper. Whisk continually until mixture starts to thicken. Add paprika and corn and continue to whisk until cornmeal has a thick oatmeal consistency. Stir in cheese. Remove from heat.
Spoon vegetable mixture into prepared baking dish, spreading evenly. Pour cornmeal mixture overtop and spread evenly to cover well.
Bake for 30 minutes or until cornbread topping is set. Cool completely on a wire rack.