How to make a soufflé
In need of dessert ideas? Well, if you're ready to banish the sense of mystery and danger that surrounds making a successful soufflé, we can help. While few dare to try, rest assured you can make a good soufflé. A soufflé can be sweet or savory, depending on the base of your mixture. Here, we'll focus on the sweet and how to make a delicious chocolate soufflé.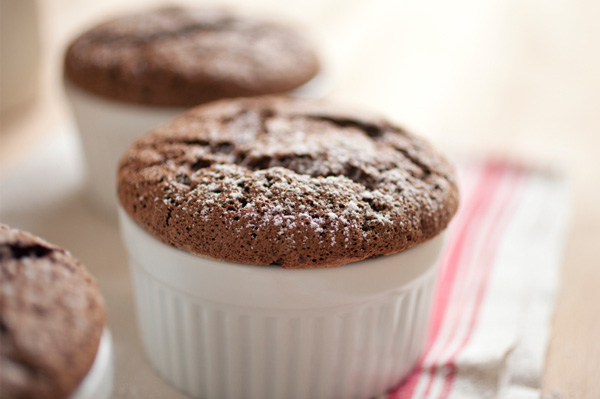 OK, the first step to making a great dessert soufflé is... don't panic! That's right. We know you've been told how difficult they are, but the real key is to keep your cool and just read and follow the instructions to the letter. It does require a certain level of care, but it's really just not that hard. Pro chefs only tell you that so you'll be impressed when they pull it off!
Chocolate soufflé recipe
Ingredients:
1/3 cup all-purpose flour
1/2 cup sugar, divided plus more to sprinkle
1-1/2 cups milk
3 ounces unsweetened chocolate, coarsely chopped
6 eggs, separated
Butter
1/4 teaspoon salt
2 teaspoons vanilla
Directions:
Add the flour and 1/4 cup of the sugar to a 2-quart saucepan. Slowly stir in the milk. Cover the pan, and over medium heat, stir the mixture constantly until it thickens and starts to boil. Cook the mixture for about a minute longer, then remove the pan from the heat and stir in the chocolate until it is melted.
Use a wooden spoon to quickly beat the egg yolks, all at once, into the mixture until thoroughly blended. Refrigerate the mixture until it's a lukewarm temperature, stirring occasionally.
Preheat your oven to 375 degrees F. As the mixture is cooling, grease a 2-quart soufflé dish with butter and lightly sprinkle the dish with a little sugar.
Using a large bowl and a mixer on high speed, beat the egg whites and salt until soft peaks start to form. Keeping your mixer on high speed, gradually sprinkle in the other 1/4 cup of sugar. Beat the mixture until the sugar is completely dissolved. The egg whites should be glossy and stiff.
Use a rubber spatula to gently fold the chocolate mixture and vanilla into the egg white mixture, a little at a time, until everything is blended together. Pour the mixture into the soufflé dish.
Use the back of a spoon to make a 1-inch indentation all around the soufflé, about 1 inch from the edge of the dish. Bake the soufflé 35 to 40 minutes until a knife inserted into the middle comes out clean.
Don't open the oven door to check on your soufflé, especially in the first 15 to 20 minutes of cooking. Serve your soufflé swiftly, as this popular dessert begins to fall once it starts to cool.
Savory soufflé recipes
Potato soufflé
Cheesy chicken and rice soufflé
Crabmeat spinach soufflé