Simple suppers: Buffalo bleu cheese chicken sandwich
Spicy sauce, chicken, and bleu cheese are a yummy threesome of flavors that can be quickly united in the kitchen without much effort. Stuffing juicy chicken breasts with bleu cheese crumbles, herbs and sun-dried tomatoes gives you an easy gourmet sandwich that only tastes complicated.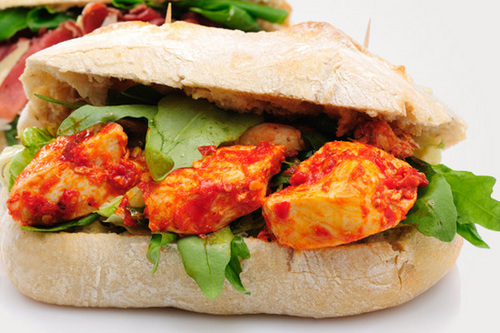 Buffalo bleu cheese chicken sandwich
Serves 4
Ingredients
4 boneless, skinless chicken breasts
Salt and freshly ground black pepper
4 boneless, skinless chicken breasts
2/3 cup bleu cheese crumbles
1/2 cup finely chopped sun-dried tomatoes packed in olive oil, drained
2 tablespoons finely chopped fresh parsley
2 tablespoons canola oil
1 tablespoon honey
2 tablespoons hot sauce (recommended: Frank's Hot Sauce)
2 tablespoons white vinegar
4 whole grain rolls, toasted
4 red leaf lettuce leaves
Directions
Heat the oven to 350 degrees F. and spray an 11x7-inch baking dish with cooking spray.
Using a sharp knife, cut a pocket horizontally into each chicken breast and season inside and out with salt and pepper. Set aside.
In a small bowl, combine bleu cheese, sun-dried tomatoes and parsley. Stuff chicken breasts with bleu cheese mixture and press edges of opening together to seal (you can seal with toothpicks, if desired).
Place chicken in baking dish and cover with aluminum foil. Bake for 25 minutes.
Meanwhile, in a small saucepan over medium heat, whisk together oil, honey, hot sauce and vinegar. Bring to a simmer. Remove foil from baking dish and pour hot sauce mixture evenly over chicken breasts, brushing with a pastry brush to coat, if necessary.
Bake for an additional 15 minutes or until chicken is cooked through. Serve with whole grain rolls and a leaf of lettuce.