Top 10 Sandwich condiments
An excellent sandwich is about the main ingredients, right? Well, yes. And no. As excellent as your roast beef may be, as fresh as your tomatoes or creamy as your cheese, there's one additional element that can make or break a sandwich: the condiment. The right condiment can make a good sandwich great -- and take a sandwich beyond lunch to become a hit at any meal.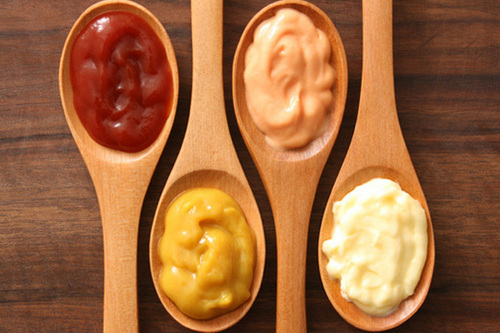 Adding just the right condiment to the bread can send a sandwich into the stratosphere of gastronomic delight -- or doom it to a quick meal one just gets through. It can add the right counterpoint of flavor, whether that flavor is salty, sweet, tangy or some combination thereof. So when you are considering your sandwich for today's lunch, really consider the condiment.
Sandwich condiment 1: Ketchup
Long since a favorite condiment on all kinds of foods, ketchup isn't often your first thought when it comes to a sandwich, but why not? If you love it, use it! And with the rise of specialty ketchups -- or even homemade ones -- you're in for a real flavor treat.
Sandwich condiment 2: Mustard
Mustard, in all its varieties adds a sharp counterpoint to many sandwiches. And with so many varieties from stone-ground to honey mustard to flavored mustards, you're sure to find a mustard that's your sandwich favorite. Try cranberry mustard on your post-Thanksgiving sandwich, for example.
Sandwich condiment 3: Mayonnaise/aioli
Although mayonnaise can be heavy if used to excess, it provides a creamy balance for some sandwiches. Aioli, mayonnaise's cousin, brings a similar texture, but with slightly less heaviness.
Sandwich condiment 4: Pickle relish
If you love briny pickled foods, pickle relish is likely your friend on the sandwich. Although typically used with hot dogs and sausages, what's to say you can't add your favorite pickle based condiment to any sandwich?
Sandwich condiment 5: Hummus
Hummus is a terrific condiment for both vegetarian and  non-vegetarian sandwiches. A smooth, garlicky hummus with some lemon tang and cumin spice can be terrific on a burger, for example. Or keep it traditional and use it in a pita pocket with fresh tomato and cucumbers.
Sandwich condiment 6: Guacamole
The creamy deliciousness of guacamole isn't just for the burrito-loving crowd. Guacamole is excellent on a BLT, for example, or paired with sliced turkey.
Sandwich condiment 7: Pesto
Pestos are not just for pastas, they are for sandwiches, too. Try a basil pesto or sun-dried tomato pesto on a caprese sandwich for garden fresh flavor and balance.
Sandwich condiment 8: Balsamic vinaigrette
Using balsamic vinaigrette on a sandwich adds moisture and depth of flavor you might not expect from a mere sandwich. Use it sparingly though because too much moisture can turn a delicious sandwich into a soggy mess!
Sandwich condiment 9: Ranch dressing
Ranch dressing -- but just about any salad dressing, really -- can add a tangy punch to a sandwich. Try it on a chicken cutlet wrap or in a vegetarian pocket.
Sandwich condiment 10: Tapenade
Tapenade, the paste made of chopped olives, capers and anchovies can really kick up the flavor a notch -- or two. Since this provencal treat is typically spread on bread, taking it to the sandwich is a natural progression.