Top 10 pantry items every mom should have on hand
When you look in your pantry, what do you see? Simple ingredients, emergency meals or both? With the right combination, your pantry can be the foundation for everything from a last-minute dinner to a delicious after-school treat. Make sure you have these staples (and treats) on hand.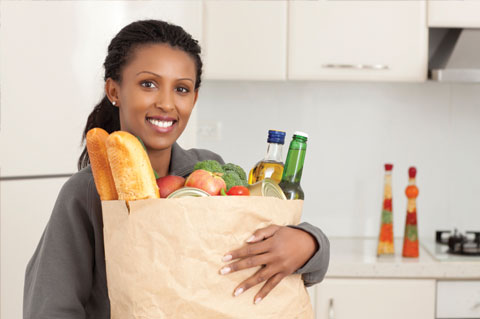 Keeping your pantry appropriately stocked is a kitchen basic. There are items that should be on hand at all times and regularly replenished. With the following 10 items always on hand in your pantry, you'll be in good shape to pull together meals and treats when the mood or need strikes.
Pantry item 1: Pasta
With a couple of varieties of pasta on hand, you have the foundation for a quick meal or an ingredient for a more involved meal. Pasta can be served on its own or in, say, soups. Keep a shaped pasta and a long pasta on hand at any given time.
Pantry item 2: Marinara sauce
A jar of good marinara sauce is a go-to item for a fast meal. Use it in pasta recipes or on chicken before you bake it. Use it as a pizza sauce or even as a dip for crackers in a pinch!
Pantry item 3: Rice
Like pasta, having some rice on hand to build meals from is a good thing. You can combine rice with chicken broth for a lightly flavored side dish, make your own fried rice or create the foundation for a casserole.
Pantry item 4: Chicken broth
Chicken broth is not just for soups! It's for sauces, casseroles and for giving flavor in sometimes unlikely ways. Use it when cooking rice or pasta for an extra oomph of flavor or to thin out paste-like ingredients to create a sauce. Whether the version in your pantry is bouillon or a full-strength carton, find a favorite (preferably low-sodium) and keep it handy.
Pantry item 5: Oil
If you have just one form of fat in your pantry, choose an oil that you can use for cooking, baking and salad dressings. Canola oil and olive oil both work well — but so do some lesser known oils such as grapeseed and macadamia.
Pantry item 6: Balsamic vinegar
Balsamic vinegar is not just for salad dressings. You can use balsamic vinegar when you roast chicken or to make a glaze for vegetables. Its deep, rich flavor adds complexity to many different kinds of dishes.
Pantry item 7: Flour
Of course you need flour — but not just for baking. You use flour to thicken some sauces by making a roux and when lightly breading fish fillets or chicken cutlets. You can also make play pastes for the kids.
Pantry item 8: Sugar
Sugar, like flour, isn't just for baking. Sometimes you need to add a pinch to homemade sauces or salad dressings to cut some acidity. Or sometimes you just need a little sugar in your tea.
Pantry item 9: Fruit jam
Fruit jams — in the fruit of your choice — are for more than school lunch sandwiches. They can perk up everything from pancakes to chicken to pork chops and can be an ingredient in baking. Find a favorite low-sugar variety and keep some on hand at all times.
Pantry item 10: Nutella
Nutella is definitely a treat and a staple for a pantry! While many kids (and adults) like this chocolate and hazelnut spread on toast or in a sandwich, it's also a great ingredient for baking! Add a dollop to the top of muffin batter just before you bake it, stir it into pancakes or just scoop a spoonful out of the jar for a tasty treat (but no double-dipping).
More on ingredients
6 Ingredients to stretch your food budget
Dozens of cheap, healthy lunches
How to use fresh, natural ingredients to add color (and flavor) to your cooking