Apple dumpling recipes
Cool weather has us craving nice, warm apple dumplings. But what girl really has the time to labor over time-intensive dessert recipes like that? Not us. And we're guessing not you, either. Don't sweat it. These super simple apple dumpling recipes will have even your grandma thinking you spent hours in the kitchen slaving over these sweets.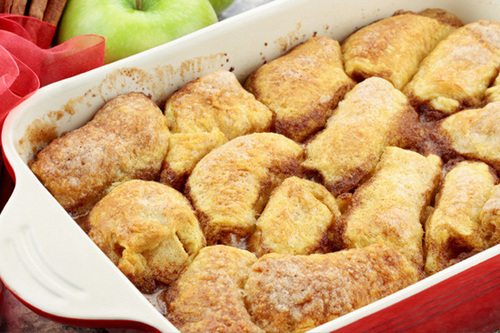 Easy apple dumplings
Servings: 4
You can whip this yummy dessert up in a jiffy, whether you have drop-in guests (surprise!) or are just craving a warm treat.
Ingredients
1 10-ounce can refrigerated buttermilk biscuits
2-3 apples, cored
3/4 cup sugar
3/4 cup water
1/4 cup butter
1/2 teaspoon vanilla
1/2 teaspoon cinnamon
1/8 teaspoon salt
Directions
Roll each biscuit into a circle about 6 inches in circumference.
Place 1/2 of an apple onto each circle.
Wet the edges of dough, then pinch them together with your fingers.
Place dumplings in an 8-by-8-inch square pan.
Combine sugar, water, vanilla and butter; bring to a boil.
Pour syrup over dumplings.
Bake at 350 degrees for about 30 minutes or until dumplings are golden.
Baste the dumplings with the syrup a few times throughout the cooking process.
Apple Dumplings with raisins and walnuts
Servings: 6
Raisins and walnuts add some extra oomph to this apple dumpling recipe.
Ingredients
Store bought pie dough
6 small apples
3 tablespoons raisins
3 tablespoons chopped walnuts
1/2 cup sugar
1 cup apple juice
1/2 cup corn syrup
2 tablespoons butter
1/4 teaspoon ground cinnamon
Directions
Combine raisins and walnuts in a mixing bowl.
Cut pie dough into 6 squares.
Core apples and place one apple on each dough square.
Fill apple cores with the raisin and walnut mixture.
Wrap apples in the dough, using a bit of water to "seal" the dough around the apples, then put them in a 9-by-13-inch baking dish.
Combine the sugar, apple juice, corn syrup, butter and cinnamon to a saucepan and boil for 3-4 minutes.
Pour sauce over the wrapped apples.
Bake at 350 degrees for about 35 minutes, or until golden brown and apples are tender.
Apple and pear dumplings
Servings: 4 (2 dumplings per person)
Mix things up a bit by adding pear to this delish dumpling recipe.
Ingredients
Package of large egg roll wrappers
1 large, pear peeled, cored and cut into 8 chunks
1 large apple, peeled, cored and cut into 8 chunks
3 quarts of salted water
1/2 cup butter
2/3 cup breadcrumbs
1/2 teaspoon cinnamon
1/2 teaspoon nutmeg
granulated sugar for dusting
Directions
Boil the salted water.
Place one chunk of apple and one chunk of pear on each of the 8 egg roll wrappers, and then pinch them closed with wet fingers.
With tongs, place the dumplings in the water, then let the water reboil.
Simmer dumplings for about ten minutes, stirring so they don't get stuck on the bottom of the pot.
Remove the dumplings from the water when they rise to the top.
Melt butter in a skillet, then add breadcrumbs, and spices, stir often.
Then remove the dumplings from the boiling water, place them in the "topping" mixture, and sprinkle with some granulated sugar.