Holiday breakfasts
Everyone knows breakfast is the most important meal of the day, but most mornings are too hectic to prepare or enjoy it. The holidays are a great time to enjoy a hot breakfast, and all of these breakfast recipes can be made ahead. They're all delicious, too -- my family has made them for years. I hope you and your family enjoy these holiday breakfast ideas too.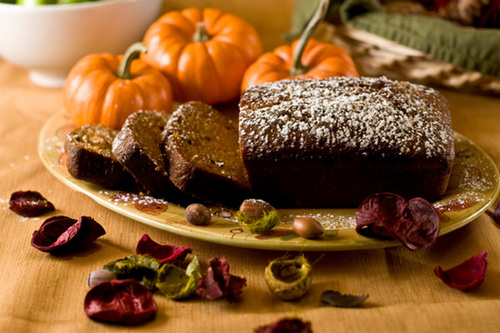 Pumpkin bread
This recipe was handed down from my mother-in-law. Sadly, she's no longer with us but we fondly remember her every holiday season when our home is filled with the amazing scent of this fresh bread baking. Perfect to make ahead and enjoy for breakfast warm or at room temperature.
Ingredients
1/2 cup vegetable oil
2 eggs
1 cup canned pumpkin
1 2/3 cups sifted flour
1 1/4 cups sugar
1 tsp baking soda
1/2 tsp cinnamon
1/2 tsp nutmeg
1/4 tsp salt
Directions
Combine oil, eggs, 1/3 cup water and pumpkin in large bowl.
Sift together flour, sugar, baking soda, cinnamon, nutmeg and salt into a medium bowl.
Gradually beat sifted mixture from step #2 into first mixture.
Pour into greased and floured loaf pan.
Bake for one hour.
Bull's eyes
This breakfast is my husband's specialty. Create a holiday theme with this classic take on eggs and toast by using small holiday shape cookie cutters to make holes in the bread.
Ingredients
4 eggs
4 slices of bread, any type but thick slices work best
Softened butter or margarine
Directions
Cut hole in center of bread.
Lightly butter both sides of the bread.
Heat skillet over medium heat.
Crack egg into hole in bread, cook approximately 1 minute per side.
Cheese souffle
This one is from my mom -- thanks, Mom!
Ingredients
8 slices day old white bread buttered on both sides with crusts removed
1 1/2 lb shredded sharp cheddar cheese
6 eggs, beaten
2 1/2 cups milk
1/2 tsp dry mustard
1/2 tsp salt
dash cayenne pepper
1/2 tsp Worcestershire sauce
1/4 tsp brown sugar
1/8 tsp onion powder
Directions
Can be made ahead -cover with foil and refrigerate overnight.
Whisk all of the ingredients together, except the bread.
Grease a 10x13 pan with butter or cooking spray.
Layer bread slices and cheese -- start with one slice, then handful of cheese, repeat until done.
Pour egg mixture over layers.
Cover with aluminum foil and refrigerate over night.
Bring to room temperature.
Bake uncovered at 350 about 1 hour or until souffle is brown and bubbly. Let stand 10 minutes before slicing and serving.
A fresh fruit salad or mixed greens with a light vinaigrette dressing are great sides with this dish.
Turkey breakfast quesadillas
This recipe is courtesy of my 8-year-old son, Joshua. It's so simple, he can make it himself.
Ingredients
4 flour tortillas 
1 cup shredded cheese -- such as Mexican blend, cheddar or mozzarella -- divided
Chopped or shredded leftover turkey
Directions
Add 1/4 cup cheese and small handful of turkey to each tortilla.
Fold in half.
Microwave for 25 seconds or until cheese is melted -- help your child if he isn't ready to microwave on his own.
Serve with salsa, guacamole or sour cream.
Ready, set, go! Holiday breakfast
"Since holiday time seems to have a lot of last minute company, have all of this in the refrigerator or freezer and you'll be ready to go whenever someone calls or stops by," suggests my mom.
Ingredients
Box of assorted mini quiches
Bag of mini bagels
Box of mini donuts or coffee cake cut into bite-size pieces
Assorted flavored cream cheese
Peanut butter and jelly
Frozen or fresh fruit salad 
Assorted juices, coffee and tea
Directions
Heat and serve according to package instructions -- and enjoy!