3 Vegetarian holiday recipes
Since holiday meals typically include turkey or ham as the main dish, it can be challenging to please the vegetarians at the table. Here are three holiday vegetarian recipes -- one main dish and two sides -- that will satisfy not only vegetarian guests but meat-eaters, too.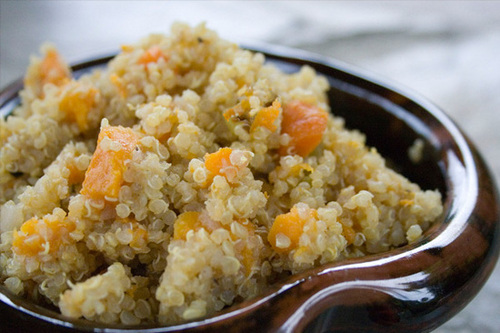 These recipes are courtesy of The Cooking with Trader Joe's Cookbook - Dinner's Done by Deana Gunn and Wona Miniati. Don't have a Trader Joe's market in your community? Don't worry - the ingredients can be found in most supermarkets, too.
Roasted butternut squash quinoa
"One of our readers, Debbie F., sent us this recipe using one of our favorite ingredients, quinoa," says Gunn. "Quinoa is packed with more protein than any other grain, is a vegetarian source of the complete set of essential amino acids, and is a great alternative to rice.  Garlicky butternut squash complements the nutty taste of quinoa.  This dish can be served warm or cold."
Ingredients
1 (12-oz) pkg Cut Peeled Butternut Squash, diced into smaller pieces (about 3 cups)
2 tbsp olive oil
1/2 tsp salt
1/4 tsp black pepper
1 tsp garlic powder
1/2 cup chopped onion or refrigerated diced onions
1 cup quinoa, rinsed
2 cups vegetable broth
2 tbsp butter
1/8 cup dried cranberries (optional)
1/8 cup dried apricots, chopped (optional)
Directions
Preheat oven to 350˚ F. 
Place butternut squash on a baking sheet.  Pour olive oil over squash and toss to coat.  Sprinkle with salt, pepper and garlic powder and toss again.  Spread seasoned squash in a single layer and bake for 15 minutes.
Add onion and bake for another 10 minutes.
Transfer cooked vegetable mixture to a medium pot and add quinoa, broth, and butter.  Bring mixture to a boil.  Cover, reduce heat, and simmer for 15 minutes, or until water is absorbed.
Stir in dried cranberries and dried apricots.
Prep time: 5 minutes 
Hands-off cooking time: 40 minutes
Serves 4
Sweet potatoes with balsamic maple glaze
"This delicious root vegetable also packs a nutritious punch," says Gunn. "Sweet potatoes are full of dietary fiber, natural sugars, vitamin C, beta carotene and Vitamin A."
 Ingredients
1 16-oz bag Cut Sweet Potatoes -- or peel and cut your own 3/4-inch cubes, about 3 cup's worth
3 tbsp vegetable oil, divided
3 tbsp maple syrup, divided
5 tbsp peeled and minced shallots 
2 tbsp balsamic vinegar
1/4 tsp each salt and pepper
Directions
Preheat oven to 400˚ F.
In a medium bowl, toss sweet potatoes with 2 tbsp oil and 2 tbsp maple syrup until coated. Transfer sweet potatoes onto a lightly oiled baking sheet. Spread them out so that they roast evenly.
Roast sweet potatoes in oven for 20-25 minutes, or until fork-tender, tossing halfway through.
While sweet potatoes are roasting, sauté shallots in a small saucepan with 1 tbsp oil until shallots are soft. Add balsamic vinegar and remaining 1 tbsp maple syrup. Simmer over low heat for about 5 minutes until sauce is slightly reduced and thickened. Remove from heat.
Remove sweet potatoes from oven and transfer to medium serving bowl. Drizzle with sauce and toss to coat. 
Prep time: 10 minutes
Hands-off cooking time: 25 minutes
Serves 4
Harvest glazed carrots
Ingredients
3 cups sliced carrots, or 1 (16-oz) bag baby carrots
2 tbsp pumpkin butter, available seasonally
¼ cup raisins
¼ cup chopped pecans
 Directions
Boil or steam carrots until crisp-tender.
Drain carrots and place into a serving bowl. Stir in pumpkin butter, raisins and pecans.
Prep and cooking time: 10-15 minutes
Serves 4
Photo of Roasted Butternut Squash Quinoa courtesy of "Cooking with Trader Joe's - Dinner's Done."