Fool-proof gravy
If you're like many Thanksgiving cooks, you may think roasting a turkey is the easy part. But gravy? It can be the most daunting part of making the meal. Too thick, too thin, not enough starch, and of course, the dreaded lumpy gravy. Follow our fool-proof tips for making smooth, lump-free gravy, and even the littlest pilgrims at the table will be asking for more.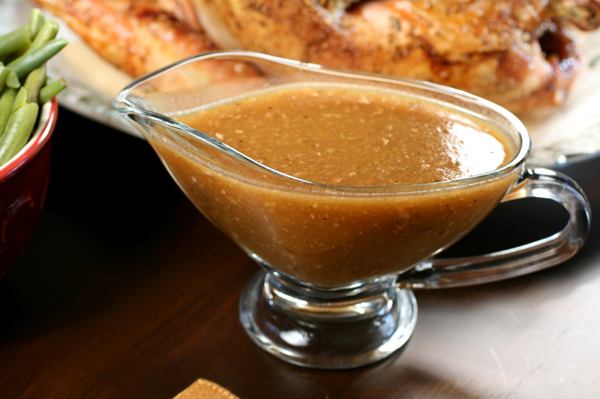 Making gravy can be as simple or as complicated as you want — we like to keep it simple. Here are two fool-proof recipes. The first is for delicious, homemade gravy. If you're roasting a turkey, the drippings created while cooking will provide a great base. The second recipe will show you how to add tons of flavor to store-bought gravy in no time at all.
Homemade gravy
Ingredients:
Pan drippings from roast turkey
1 sprig fresh rosemary
1 sprig fresh thyme
1 sprig fresh sage
Salt and pepper to taste
4 tablespoons cornstarch, divided
Directions:
Pour the turkey drippings into a large bowl or measuring cup. You may want to ladle out the juices to avoid spills or burns.
Wait approximately 10 minutes for the fat to separate. If you have a gravy separator in your kitchen, that's even better.
Skim the fat and discard it.
Add the herbs, salt and pepper to drippings.
Add 1 tablespoon of cornstarch to a small bowl.
Add 1/2 cup of the hot drippings and whisk constantly until you have a smooth paste. Remember, small batches are best for thickening.
Stir the paste into the bowl of drippings. If needed, repeat steps 5 and 6 until your gravy is at the desired thickness.
Spicing up store-bought gravy
If homemade gravy isn't your thing, here's a fool-proof way to spice up store-bought gravy. Your family and friends will still be impressed and may not be able to tell the difference!
Ingredients:
1 box chicken or turkey gravy
2 garlic cloves, chopped
2 teaspoon olive oil
Salt and pepper to taste
Directions:
Heat the gravy in a saucepan or microwave according to the package directions.
Heat the olive oil in a skillet on medium heat.
Add the garlic, then sauté until softened and lightly browned, about 1 minute.
Serve, but don't tell your secret that it's not homemade.
More Thanksgiving recipes
Quick and easy Thanksgiving recipes
Vegan Thanksgiving extras
The perfect portions: Thanksgiving recipes for two