Back to school breakfast recipes for kids
Let your kids be in charge and show them how to prepare these healthy, easy back to school breakfast recipes. You can finish blow drying your hair and teach them healthy habits that will last a lifetime. Nice job!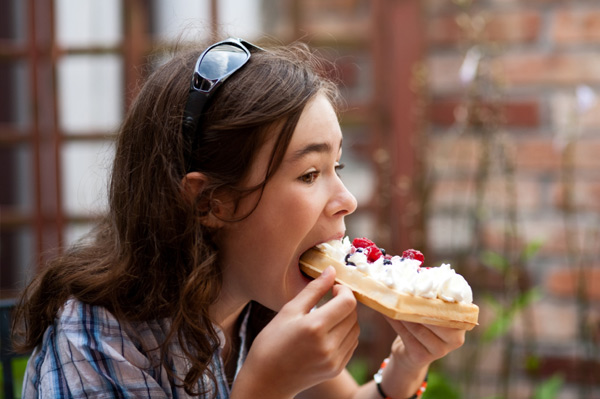 Microwave breakfast ideas
Let the kids make scrambled eggs in the microwave with a little milk and even some shredded cheese.
French toast works well in the microwave, just whisk eggs in a bowl with milk, then add the bread and microwave for a few seconds until cooked through.
Another good option is to make a big batch of pancakes ahead of time and simply warm them in the microwave for a few seconds and top with jam or syrup. Making the pancakes can even be a fun project for you and your kids.
Toast it Up
Toast:
Bread
English muffins
Frozen waffles
Bagels
Top with:
Sliced fruit
Cream cheese
Honey
Jellies, jams and preserves
Peanut, almond or other nut butters
Don't Forget the Dairy
Cereal with high fiber and low sugar is an easy breakfast kids can make. Add sliced fruit to make it healthier and a little sweeter.
Yogurt is also a great choice because all kids need to do is open the container. Make it a heartier breakfast by mixing plain Greek yogurt with granola, dried fruit like raisins, and a drizzle of honey.
And if your kids are old enough, show them how to safely (and neatly) use a blender and they can combine low-fat milk, a banana, some ice and peanut butter in a blender and create a filling and healthy protein shake.
Make Your Own Fast Food
You can make your own homemade pop tarts with whole wheat English muffins or pita bread, nutella, peanut butter, or any other nut butter, any flavor jam or fresh fruit slices. Then simply place it in a toaster oven and toast for a few seconds until warmed through.
Homemade breakfast sandwiches are also a snap for kids. Scramble eggs in the microwave then place on an English muffin and top with cheese and low-fat turkey bacon then toast in a toaster oven.
Up next: Healthy, easy back to school breakfast recipes >>