Quick ways to sneak protein into a school meal
Do you worry that your kids aren't getting enough protein in their daily diets? Though some days it may seem that they eat nothing but fruit and pretzels, chances are your kids do actually consume enough of this important nutrient. Protein is found in obvious foods such as meat, poultry and fish, but it also is available in eggs, beans, legumes, soy, nuts, nut butters, dairy and even grain products. If you're still concerned that your children's diets are lacking, here are some quick ways to sneak protein into their school meals.
Protein requirements for kids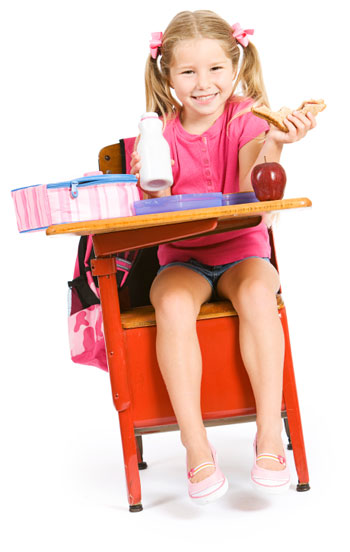 Protein is a crucial nutrient for your children's growth and development. Their daily protein requirements will vary depending on their age and weight.
Here are the protein requirements for children, according to the Dietary Reference Intakes from the Institute of Medicine:
Ages 1 to 3 = 13 grams of protein
Ages 4 to 8 = 19 grams of protein
Ages 9 to 13 = 34 grams of protein
Children who are big for their age need slightly more, while children who are small can consume less.
Kid friendly protein foods
Even if your kids are hip on high-protein foods such as beef, poultry and seafood, you can still sneak protein into your children's snack bags or lunchboxes to ensure they are getting enough.
Got milk?
Milk, yogurt and cheese are delicious sources of protein that most kids love. Dairy also provides a tasty dose of bone building calcium. Instead of juice, pack 8 ounce cartons of soy milk (6 grams of protein) or dairy milk (8 grams of protein). Add a small carton of plain yogurt (10 to 14 grams of protein) and fresh fruit for a snack or dessert. Layer a sandwich with a slice of cheese (7 grams of protein) or include a cheese stick (7 grams of protein) as a protein-rich nibble.
Go nuts
Nuts and seeds are energy dense sources of protein, healthy fats, and fiber. Forgo the candy bar, and fill a snack bag with 1 ounce of raw almonds (6 grams of protein) and a handful of raisins (4 grams of protein). Slather wheat bread (5 grams per slice) with 2 ounces of peanut butter (7 grams of protein) and sliced bananas. Sprinkle 2 tablespoons of sunflower seeds (3 grams of protein) into a pasta or rice salad.
Healthy whole grains
Whole wheat bread and pasta not only have more fiber than refined flour varieties, they often have more protein. For example, some whole wheat breads have more than 5 grams of protein per slice while whole wheat pastas may have as much as 10 grams of protein per single serving. Substitute whole wheat or whole grain products for the white flour products in your kids' lunches. Ditch the white rice and make grain salads with red or black quinoa (5 grams per serving), a colorful array of finely chopped vegetables or fruit, and a light dressing.
More healthy lunch ideas