Five minute breakfast sandwiches
School day mornings can be such a rush: first, you have to get yourself up; then, you have to get your kids up; then you all have to somehow put on matching clothes, comb bed-rumpled hair and get a healthy breakfast into your bellies before rushing out the door. Feeding your family a healthy breakfast can be a daunting task, especially when it's hard enough to find the time to feed them any breakfast at all!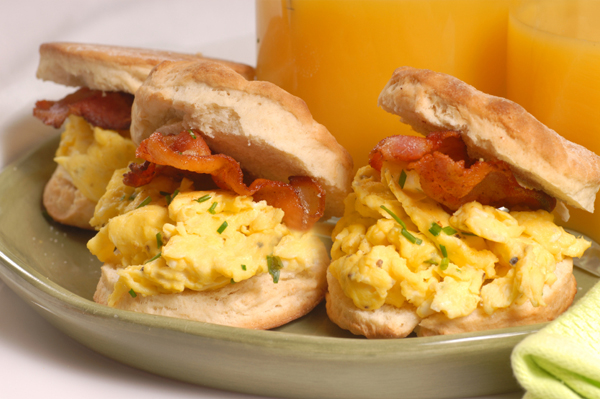 Beat the morning rush
These five breakfast sandwiches are easy to prepare, full of healthy ingredients and, best yet, all of them can be made in less than five minutes. Whether you have a family full of bacon lovers, picky eaters or vegetarians, you're sure to find a new favorite breakfast in one of these sandwiches.
The Breakfast BLT offers a quick, easy way to eat a fiber and protein filled breakfast while sneaking veggies into your family's morning routine. Pancake Roll-ups are (quite literally) full of potassium. Happy Jack Muffins are a lot faster, fresher, and healthier than fast food breakfast ideas, although your family will think they taste just like their favorite restaurant breakfast muffins. Green Cheese Bagels will give your kids a great excuse to eat sprouts—a food most kids won't eat—but in this delicious breakfast bagel, they'll gobble them up! Waffles Schmaffle Sandwiches are a fun, healthy way to serve toaster waffles. Kids will love the taste and moms will adore the added nutrition of fresh apples, rather than over processed pancake syrup.
No matter which sandwich you choose to make for breakfast, you'll be able to feed your family and feel good knowing you fed them right before heading out the door for another busy day. Check out these healthy breakfasts!
Breakfast BLT
Toast two slices of multigrain bread. Microwave two slices of precooked bacon in microwave until crispy, about 30 seconds. Spread 1 tablespoon of low-fat mayonnaise on one slice of bread. Top with bacon and thinly sliced tomatoes and/or cucumbers. Top with second slice of toast. Enjoy!
Pancake Roll-ups
Microwave one pre-cooked frozen pancake until warm and soft (about 25-35 seconds). Spread peanut butter or Nutella on top of pancake. Place one half a banana in the center of the pancake, rolling the pancake around the banana burrito-style. Serve immediately.
Happy Jack Muffins
Coat the inside of a standard-sized mug with non-stick cooking spray. Crack an egg into the center of the mug, whisking it together with a fork until well beaten. Sprinkle three tablespoons of grated cheddar and two tablespoons of diced ham over the egg. Microwave on medium-high until egg is cooked through, about 2-3 minutes. Spoon cooked egg between a sliced English muffin. Breakfast is served!
Green Cheese Bagel
In a small bowl, fold ¼ cup of sprouts into two tablespoons of light cream cheese. Spread between a whole-grain bagel. Add a fresh tomato slice, if desired.
Waffle Schmaffle
Toast two precooked waffles until warm. Top one of the waffles immediately with a slice of cheddar cheese and several very thinly sliced green apples. Press the second waffle firmly on top, eat, and enjoy!
More quick breakfast ideas