Start a family breakfast tradition
The countdown is on! For most families, the start of a new school year is just around the corner. For many kids, the anticipation of the first day of school can be exciting: there is the excitement of learning who their teachers are; there is the chance to gather together with old friends and the opportunity to meet new friends. But, for some, the start of a new school year is riddled with anxiety. What if they can't find their classroom? What if no one wants to play at recess? What if they lose their lunch? And, after a whole summer of snoozing in late and living a schedule-free life, what if they just can't stay awake in class? No matter what end of the back to school spectrum your kids fall under, the transition from summer schedule to school regime takes time. And, even more so, it takes practice. This year, get a jump start at preparing your kids for the new school year by hosting a Back to School Family Breakfast …for dinner.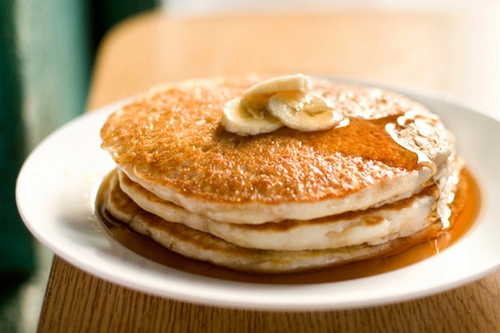 Back to School Pancakes
Pancakes are nice. But thick, fluffy whole wheat pancakes, resplendent with the crunch of toasted oats and the soft flavor of bananas? Well, that's just pure pancake paradise. Serve with pure maple syrup and fresh sliced strawberries.
Ingredients:
1 banana
1 tablespoon butter, softened
1/2 cup Coach's Oats
1/2 cup whole wheat flour
1 cup whole, soy or almond milk
1 egg
1 teaspoon vanilla
1/2 teaspoon salt
Directions:
In a large bowl, mash banana well with fork.
Mix in remaining ingredients with an electric mixer until well incorporated. Spoon onto hot griddle.
Quick & Easy Chocolate Chip Cookies
This recipe is so good you will never again want to waste a penny on anything but these few simple ingredients. Crispy on the outside, chewy on the inside, full of tiny chocolate chips. A perfect after school snack, midnight snack, and bake sale treat.
Ingredients:
1/2 cup canola oil
1-1/2 cups brown sugar
2 egg whites
1/2 teaspoon sea salt
1/2 teaspoon baking soda
1 teaspoon vinegar
1-3/4 cups flour
1 cup mini chips
Directions:
In a large bowl, mix together oil, sugar and egg whites. Add remaining ingredients.
Roll dough into 1" balls, then place on cookie sheet.
Bake 350°F for 8-10 minutes, or until cookies are just barely browned on the edges.
More back to school meal ideas