Not your average brown bag lunch
If your kids tote a lunch to school, it's likely they'll be complaining about their brown bag offerings before the first week of school ends. It doesn't take long for most kids to tire of the same old lunchtime snacks -- white bread, a bit of meat, a smear of mayo. No wonder they become quickly uninspired by the usual. The usual is usually bland, boring, and basic.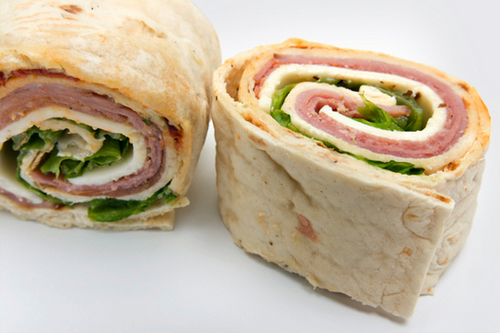 Of course, most mothers walk a careful lunchtime tightrope. If you send in typical lunchtime foods, the kids get bored. If you send in something clever and creative, you risk your kid coming home in horror at the bizarre combination of foods they had to pull out in front of the entire lunchroom.
The perfect school lunch for kids is cool, colorful, and not too weird. The perfect school lunch for moms is quick, healthy, and affordable. (After all, those store-bought packs of chips and drinks can get expensive!) Here are five lunchtime ideas that strike the perfect balance of what kids like to eat, and what moms like to see their kids eat. Lunchroom awesomeness approved.
Get peppy
Pepperoni pizza is a kids' classic. Let your kids tote a simple version of this favorite Friday night snack by sending them to school with a bag of low-fat mozzarella slices, pepperoni, and multigrain crackers. Most kids love this homemade version of Lunchables, enjoying the opportunity to stack together their own pepperoni cracker sandwiches.
Wrap it up
Any sandwich can go from blah to hurrah when wrapped in a tortilla and sliced into pretty pinwheels. To make a sandwich wrap most kids will adore, spread a tablespoon of veggie cream cheese on a small tortilla, place a slice of turkey, some shredded carrots, and a couple leaves of fresh spinach in the center of the tortilla. Roll up tightly, then slice into 1-inch pieces.
Give it a twist
Pretzels are inexpensive and kid-friendly. They also make excellent, edible toothpicks for bite-sized cheese cubes. Pack your kids a bag of pretzels, and a bag of cheese cubes for a simple, vegetarian lunchtime treat.
Rock and roll
Bite-sized burger sliders are all the rage at restaurants across the nation. Take a hint from this American trend and pack up tiny ham and cheese sandwiches on small rolls. King's Hawaiian rolls are readily available at most grocery stores, with their small serving sizes and touch of sweetness, they offer an ideal canvas for lunchtime sliders that most kids will absolutely devour.
Hole in one
Bagels and cream cheese offer a nice change of pace for kids tired of lunch meat sandwiches. Serve whole wheat bagels with a schmear of cream cheese and a dollop of pure fruit preserves for a fresh, healthy take on those same-old sandwiches.
More lunch ideas for school