A week of artisan breads
Is there anything better than the smell of fresh artisan bread? Didn't think so. I bet there's an artisan bakery in your community that is just to die for, with the freshest breads made by hand. You probably have gotten to know the baker-owner. You probably try to patronize the bakery as much as you can. But you may also have encountered a problem. All those breads are indeed luscious, but how do you make use of them in ways that aren't essentially, the same bread basket with good butter over and over and over and over? Delicious as it may be, of course. But you know what I mean. You need ways to use the bread in interesting and tasty ways.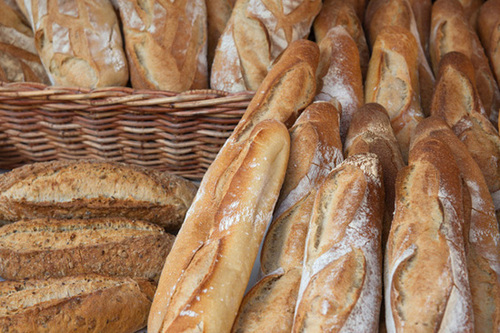 So here are some ideas for using the range of breads that an artisan bakery might offer for every day of the week - even the days the bakery is closed! Plan to drop by the bakery every day for fresh bread - and stock up for the days the bakery is closed. My local bakery is closed Monday and Tuesday, so I plan my Sunday bread pick up accordingly.
Sunday
The bakery is open at the regular time but closes early on Sunday. Pick up a couple of lovely fresh ciabatta loaves for the family for lunch, multigrain batard and a regular white loaf for the coming days. Today use the ciabatta loaves to make a caprese salad sandwich for a delectable Sunday family lunch.
Monday
A perfect way to use the one day old multigrain batard loaf  picked up the day before is a panzanella, or warm bread salad.
Tuesday
That two day old loaf? Perfect for a mid-week dessert treat: bread pudding! Add your own favorite fruit (fresh and/or dried) to make it even better.
Wednesday
Yeah! The bakery is open again! But mid-week is crazy, so keep dinner simple. Garlic bread using a white batard to go with spaghetti with marinara sauce would be perfect.
Thursday
The weekend is almost here! A fun way to celebrate the almost weekend would be to make broiled tomato toasts using a thinly sliced fresh baguette.
Friday
Hearty sourdough is the perfect bread to broil on top of a delicious French onion soup.
Saturday
You bakery likely makes a loaf that is perfect for breakfasts such as a raisin bread. But why limit it to breakfasts? Why not try a unique take on grilled cheese by using brie and sliced tart apples between that "breakfast loaf?" You won't regret it.
Broiled tomato toasts
Ingredients
1-2 tomatoes, finely chopped
1 shallot, finely chopped
Fresh basil, chopped
Pinch of sugar
Kosher salt to taste
Splash of olive oil
1 baguette, thinly sliced on the diagonal
Freshly grated Parmesan cheese
Directions
Preheat your broiler.
In a bowl, combine the tomato, shallot, garlic, basil, sugar, salt and olive oil. Stir gently.
Lay the baguette slices out on a cookie sheet. Place a small spoonful of the tomato mixture on top of each slice of bread.
Broil for 3-4 minutes. Immediately upon removing from the broiler, sprinkle with Parmesan cheese.
Grilled brie and apple sandwiches
Ingredients
Brie
Thinly sliced tart, crisp apple
Thinly sliced raisin bread (or raisin pecan sourdough bread)
Thinly sliced butter
Directions
Heat a griddle over medium low heat.
Meanwhile, butter the outsides of two pieces of bread. Layer brie and apple on the inside.
Place on the griddle and cook until the brie has begun to melt and the outer sides of the bread are crisp and lightly browned.