Healthy fall comfort food recipes
After the hot summer swelter, falling autumn temperatures give rise to cravings for hearty, belly-warming comfort foods. Though soul-satisfying, carb-rich and fat-laden dishes can quickly derail your diet. To keep you slim and trim into the cold climes, sink your teeth into these healthy fall comfort food recipes.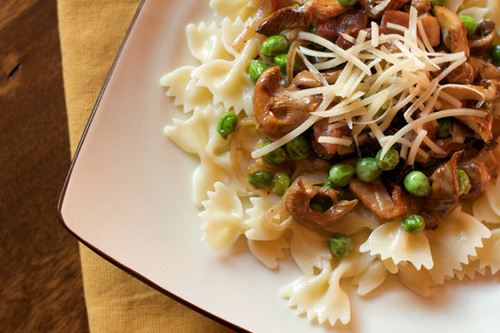 Pasta with portobellos, prosciutto and peas
Serves 8
Pasta is the ultimate comfort food, especially when paired with meaty mushrooms, salty prosciutto and sweet peas. Whole wheat pasta and heart-healthy garlic give this mouthwatering soul-food melange a healthy edge.
Ingredients
1 pound whole wheat fettuccini
2 tablespoons olive oil
4 ounces prosciutto, chopped
1 pound Portobello mushrooms, gills removed, sliced
3 cloves garlic, minced
1/2 cup white wine
1 cup peas
3 tablespoons finely chopped flat-leaf parsley
Salt and freshly ground black pepper
1/2 cup shaved Parmesan
Directions
Cook pasta in a pot of salted boiling water according to package directions. Drain and reserve 1 cup of the pasta water.
Meanwhile, in a large saucepan, heat oil over medium heat and cook prosciutto, stirring often, until lightly browned. Use a slotted spoon to remove from skillet, letting it drain on a paper towel.
Add Portobello mushrooms and cook, stirring frequently, until tender and the mushroom juices have been released. Add garlic and stir for 30 seconds. Add wine, stirring to combine.
Add prosciutto, peas, and parsley and cook, stirring, until heated through. Add pasta, tossing to coat. If pasta seems dry, add pasta water a bit at a time to moisten. Season with salt and pepper. Serve garnished with Parmesan.
Grilled cheese and sun-dried tomato sandwiches
Serves 2
Whole grain bread and meaty sun-dried tomatoes give this grilled cheese variation delectable tastes and textures.
Ingredients
4 slices whole grain bread
4 tablespoons butter, softened to room temperature
1/2 cup sun dried tomatoes packed in olive oil, drained, chopped
4 ounces shaved Manchego* or Jarlsberg cheese
Directions
Heat a large nonstick skillet over medium heat. Spread one side of each slice of bread with butter. Spray skillet with nonstick cooking spray.
Place two slices butter side down in skillet and sprinkle with tomatoes and cheese. Top with remaining bread, buttered-side out.
Press sandwiches with a spatula and cover with a lid. Cook for 2 to 3 minutes or until bottom of sandwiches are lightly browned. Flip, lightly press, and cover skillet with lid. Cook for 2 to 3 more minutes or until cheese is melted and both sides of sandwiches are lightly browned.
*ChefMom's favorite: Gran Maestre Manchego cheese
Onion mushroom soup
Serves 8
Caramelized onions and mushrooms give this soup a depth of flavor without a heft of fat or calories.
Ingredients
3 tablespoons olive oil
4 large onions, halved, thinly sliced
1 pound sliced wild mushrooms (or button mushrooms, if preferred)
1 tablespoon fresh rosemary
Pinch of granulated sugar
2 cloves garlic, minced
8 cups of beef low sodium broth
1/2 cup of dry vermouth
1 bay leaf
Salt and freshly ground black pepper to taste
8 slices of toasted whole grain bread
1-1/2 cups shredded shaved Jarlsberg cheese
Directions
Heat oil in a large saucepan over medium heat. Add onions and mushrooms and cook, stirring often, for 10 minutes. Add rosemary and sugar and continue to cook, stirring often, until well browned, about 20 minutes.
Add garlic and cook, stirring, for 1 minute. Add broth, vermouth, and bay leaf. Bring to a low boil then reduce heat to medium low and simmer about 30 minutes. Season to taste with salt and pepper. Discard the bay leaf.
Put oven on broil. Ladle the soup into oven-safe bowls. Cover soup with the toast and sprinkle with cheese. Put under the broiler until the cheese bubbles and is slightly browned. Serve immediately.