Thanksgiving for a small family
Not every Thanksgiving is raucous large family celebration. Not every Thanksgiving has dozens of people squeezing around the table and fighting for the last bite of Grandma's candied yams. Some Thanksgivings, whether  by circumstance or by choice, are smaller, more intimate gatherings. Maybe this Thanksgiving is just your nuclear family of four. With all the big family togetherness hype thanks to media, a very small Thanksgiving can feel…less that celebratory.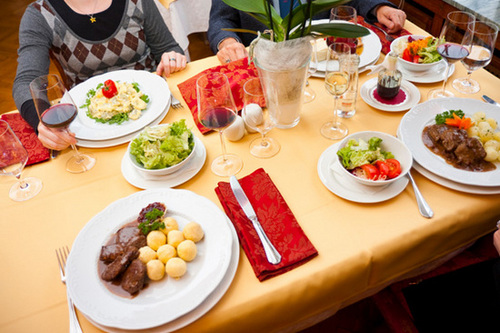 You may be tempted to not have Thanksgiving at all and just pick up some sliced turkey at the deli for sandwiches. Don't fall into that: you still have much for which to be thankful! Instead, plan for a tasteful, small holiday meal that focuses on your family's holiday favorites. Who knows? You may discover that you like these small dinners much better than the loud busy affairs! When you are cooking small, you have some editing decisions to make. It's not an everyday meal, but it's not an extravaganza full of holiday recipes either. Your usual giant turkey isn't quite appropriate (unless you want LOTS of leftovers) and you don't need quite as many sides or desserts.
Whole bird, or just a breast? Or something else?
Your first big decision is whether to cook a whole turkey -- or maybe just a turkey breast. Or, and this might lose me my citizenship in some circles, does it have to be turkey? Not everyone really loves turkey, and, really, only you will know if you make prime rib instead of poultry -- and since the point is being together, why not make something everyone in the family loves?
How many sides?
If you always made green bean casserole because it was expected, not because you like it, here's your chance to take it off the menu! Focus on the sides you truly love and can't do without - and halve them if necessary. Perhaps you can have each member of the family pick one side that they would like at the Thanksgiving table.  Everybody will have their favorites and you won't be overwhelmed with too much food and too many leftovers.
How many desserts?
You also don't need as many desserts with fewer people at a small Thanksgiving. And, as with other parts of the meal, with fewer tastes to address, you don't necessarily have to stick with the traditional. If you don't like pumpkin pie (alas, there are those who don't), then don't make it! Perhaps you want to make chocolate cream pie instead? Or pear pie instead of apple? It's really quite open to possibility. You can do just what you want to do, and not worry about insulting Aunt Bertha by not having just the thing she (only) wants.
Balsamic roasted turkey breast
Ingredients
1 bone-in turkey breast, rinsed and dried
1/4 cup balsamic vinegar
1/2 cup apple cider
2-3 tablespoons olive oil
Seasoned salt and pepper
Directions
Preheat oven to 325 Fahrenheit.
Place the turkey breast in a shallow roasting pan. Combine the vinegar and cider and carefully pour over the breast, getting all surfaces.
Rub olive oil into the skin of the turkey breast and sprinkle with seasoned salt and pepper.
Roast the breast about 2 hours (depending on the size of the breast), or until a probe thermometer reads 160 Fahrenheit, basting occasionally with pan juices.
Remove from oven, loosely cover with foil and let sit for 30 minutes. Slice and serve.