Thanksgiving dishes your kids can make
Take a new approach to Thanksgiving this year and get your kids involved in the holiday prep. By cooking with kids and letting them help you make the Thanksgiving meal, the holiday will be even more significant. It will also give them holiday culinary skills that they will appreciate into adulthood. Here are three Thanksgiving dishes that are also kid-friendly recipes.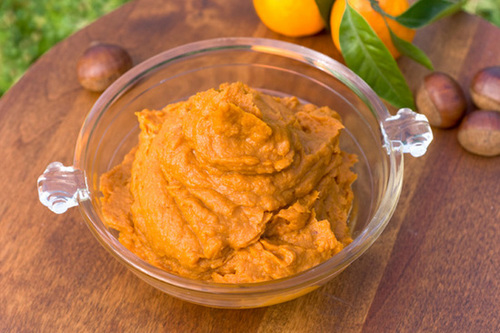 Mashed sweet potatoes
Serves 8
Though you'll have to cut and cook the potatoes until tender, your kids can do the mashing and garnishing.
Ingredients
2 pounds sweet potatoes, peeled, cut into chunks 4 tablespoons unsalted butter, cut into pieces Juice of 1 orange 1/2 teaspoon ground cinnamon Pinch of ground cloves Salt and freshly ground black pepper to taste 1/4 cup chopped pecans 1/4 cup chopped candied ginger 2 tablespoons brown sugar
Directions
Cook sweet potatoes in a large pot of boiling water until very soft. Drain and transfer to a large bowl.
Mash butter, orange juice, cinnamon and cloves into potatoes until desired consistency. Season with salt and pepper.
In a small bowl, mix pecans, ginger and brown sugar. Sprinkle evenly over sweet potatoes and serve.
Kid-friendly turkey stuffing
Serves 8
Stuffing is one of the easiest dishes for your kids to make – it's just bread cubes, chopped veggies, dried fruit and nuts. Older kids can cut and cook the veggies while younger tots can toss the ingredients together.
Ingredients
6 cups whole grain bread cubes
1 tablespoon butter
1 tablespoon olive oil
1 small onion, finely chopped
2 stalks celery, chopped
1 carrot, chopped
3 tablespoons finely chopped fresh parsley
1 teaspoon dried
Italian seasoning
1/2 cup chopped dried fruit
1/2 cup chopped walnuts
2 cups low sodium chicken broth
Directions
Preheat oven to 375 degrees F. and grease a 1-1/2 quart baking dish.
Place bread in a large bowl. Place butter and olive oil in a large skillet over medium heat. Swirl pan to melt butter. Add onion, celery, and carrot and cook, stirring often, until vegetables are softened.
Stir in parsley, Italian seasoning, fruit and walnuts. Transfer to bowl with bread. Toss to combine. Add broth and toss again. Transfer to baking dish.
Bake for 30 minutes or until top is lightly toasted.
Turkey-shaped vanilla pudding
Serves 8
A festive way to serve a "turkey" for Thanksgiving, this pudding is an easy dessert for the kids to make.
Ingredients
2 (3.4-ounce) boxes vanilla pudding mix
4 cups milk 1 (15-ounce) can sliced peaches packed in fruit juice, drained
1 oval shortbread cookie
1 candy corn
1 small sliver of red licorice
1 mini chocolate chip
Directions
Make pudding with milk according to package directions. Transfer to a shallow round baking dish and chill.
Arrange peach slices against the left side of the dish to form turkey feathers for the tail. Place the shortbread cookie horizontally 2 inches from the upper right side of the dish to form the head.
Stick the wide edge of the candy corn gently underneath the pudding, pointing towards the right edge of the dish, to form the beak. Lay the red licorice crosswise over the candy corn, letting it extend a 1/4-inch below the beak. Place the mini chocolate chip on the cookie to form an eye.