Fish tacos: When you have time, and when you don't
You can just taste them. In your mind's eye you are sitting at a small Mexican restaurant along the coast of southern California watching the sunset, noshing on fresh fish tacos. Life, you think, doesn't get much better than this. Fish tacos are a southern California delicacy.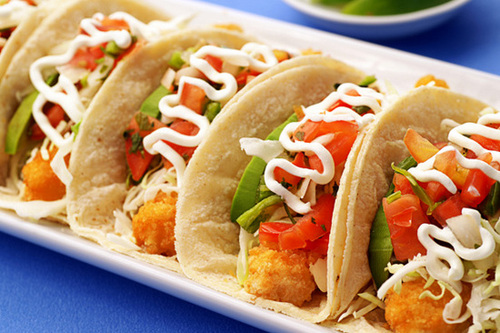 You may think that if you are outside of southern California, you are out of luck. No fish tacos for you! But that's not true at all. Even in a Midwest winter, you can get in touch with the summer feeling by making fish tacos at home. Fish tacos are simple, really: corn tortillas, fried fish, a creamy sauce, additional fixings. That said, they can be a touch time consuming if you make everything from scratch. But thankfully you have some choices. You can make everything from scratch, or you can use mostly prepared ingredients, or something in between. While fish tacos are best with fresh corn tortillas and freshly fried fish, you can use store-bought tortillas and breaded fish from the freezer section at the market. If you do use frozen fish from the market, use the best quality frozen fish fillets that you can find. No matter what your approach, fish tacos are a delicious taste of sunshine - and kids usually love them (especially if you call them "fish stick tacos"). The thing you can't find in the market is the cream fish taco sauce. Even if everything else is from a jar or package, make this yourself.
Fish tacos
Ingredients
Corn tortillas, warmed Fried fish, freshly made or frozen
Fish taco sauce
Cabbage, thinly shredded
Tomatoes, chopped (optional)
Avocado, sliced (optional)
Pico de gallo (optional)
Salsa (optional)
Queso fresco (optional)
Lime wedges.
Directions:
Set out all the ingredients and let diners build their tacos to suit!
Corn tortillas
Ingredients
3 1/2 cups masa
2 1/4 cups warm water
Directions
In a large bowl, combine the masa and water. Work it by hand to bring together into a smooth ball.
Cover with plasic and let rest for 30 minutes to an hour.
Heat a griddle over medium-high heat until very hot. Do not grease!
Divide dough into 24 equal sized pieces. Roll into balls.
One by one, press the balls into round tortillas between two pieces of plastic wrap, either using a tortilla press or a rolling pin.
Immediately place the tortilla on the hot griddle and cook for about 30 seconds on each side. Remove from heat and keep warm and moist until ready to serve.
Fried fish
Ingredients
1 1/2 pounds firm-fleshed white fish
1/4 cup flour
Vegetable oil Kosher salt
Directions
Cut the fish into thick strips and toss with the flour.
Heat the oil in a shallow frying pan over medium heat. When hot, add the fish strips.
Cook on each side until lightly golden and done. Try not to move the fish around too much so it doesn't fall apart. Drain on paper towels.
Season with salt and serve.
Fish taco sauce
Ingredients
3/4 cup plain low-fat yogurt
3/4 cup mayonnaise
Juice of one large lime
3/4 teaspoon cumin
3/4 teaspoon oregano
1 jalapeno pepper, minced
1 teaspoon cayenne pepper
Directions
Combine all ingredients in a small bowl and whisk well.
Pico de gallo
Ingredients
2-3 tomatoes, seeded and finely diced
1/2 red onion, finely diced
1 small jalapeno, seeded and finely diced
2 cloves garlic, minced
Juice of 2 limes
2 tablespoons finely chopped cilantro
Salt and pepper
Directions
Combine all ingredients in a small bowl. Let sit for an hour or two before serving to bring all the flavors together.