Cooking lessons: For your own army of sous chefs
Sometimes the best way for you to get your kids interested in what is going on in the kitchen is for you to stay out of it. Wait. What?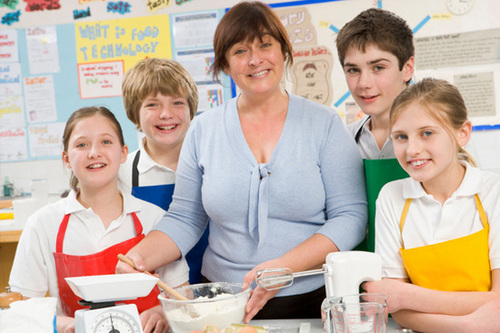 You know how peer pressure can get kids to try new foods and your kids' teachers can get them to do so many things they resist doing coming from you? Same idea applies to the kitchen. If you can get someone else to be the lead for your child in the kitchen - say, someone you pay for lessons - you just might get farther and endure less frustration than if you try to do it all yourself. Cooking lessons, for all ages and abilities, are a great way to learn a new set of cooking skills and techniques, and to be introduced to new foods and new combinations. It's edible chemistry! By the time your child is done with cooking lessons, he or she may be ready to be your sous chef -- and wouldn't it be nice to have some real help in the kitchen while you engage in parent-child bonding? And without the butting heads part of the equation.
Community education
If you don't know where to start looking for cooking lessons for kids, first try your local community education program. Many communities have educational outreach for adults and kids with a range or topics and classes from exercise to business skills to languages for travelers. Very often there's a kids' cooking class in the course listing. Ask a friend of your child's to join your child for the class. That way your child won't feel alone in the class - and maybe you and the other mom can go browse a local gourmet store while your little darlings are busy.
Word of mouth
No community education options in your area? Keep your ears wide open while you are out and about. The fluctuations in the economy have compelled many to rethink how they work -- and more than a few talented former business people out there have started to cook professionally. Maybe you can support an acquaintance while getting your child some kitchen skills?
Culinary schools and markets
Small culinary schools and local markets may offer cooking classes for kids -- as well as adults. Try calling to ask. And even if they don't have one right now, your suggestion may be just they push they need to start some classes. And the pros -- with their experience with cooking and teaching -- may be just what you need to ignite that love of cooking in your child.