Cooking with kids: Giving up control in the kitchen
You may run a very tight ship in the kitchen. Strict mise en place, never a dirty dish hanging about, not a speck of flour on the floor - and that all leads to perfectly presented and delicious dishes. Bravo! That level of kitchen organization and attention is to be admired -- by some anyway.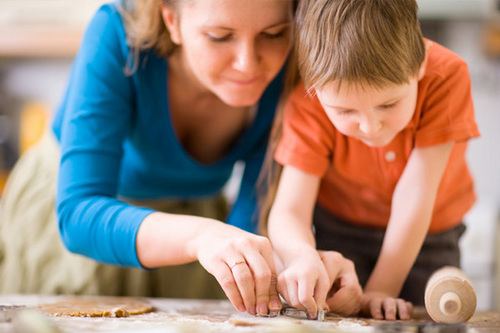 To kids who might want to learn to cook, that level of perfection may be intimidating. When you want to give kids a foundation in the kitchen, you need to give up kitchen perfection -- you need to give up some control! Kids, as part of the process, are going to make messes. Stuff will spill, ingredients will burn, and you're going to need to get used to it (at least temporarily). It's part of the process. You went through it and discovered your own system not to make such a mess (and your mom and dad lived to tell about it!) and so must your kids.
Basic guidelines
That said, basic guidelines are good. Showing your children how to cook in an organized fashion -- without being rigid, of course -- is a great lesson. It may take some time, but eventually your children will thank your for teaching them about proper preparation to make the actual cooking easier such as cleaning up as they go, and the like - and they'll thank you for teaching them how to cook, too. So let your kids into the kitchen and give up a little control. It won't take so long to clean up that mess, really. And the memories you and your kids make together will be worth it!
Messy recipes to make with the kids
Chili with cornbread
Chili splatters while it's cooking. Cornbread leaves crumbs everywhere. So what!
Chili ingredients
2 pounds of ground beef, crumbled
2 to 3 medium onions, diced
2 16-ounce cans of red kidney beans
2 28-ounce cans of diced tomatoes
2 4-ounce cans of chopped green chilis
1 4-ounce cans of chopped jalapenos (optional)
3 tablespoons chili powder
2 to 3 cloves of minced fresh garlic
2 tablespoons barbecue sauce
½ cup dry red wine (optional)
1 tablespoon Worcestershire sauce
1 teaspoon of salt
Chili directions
In a large pot over medium high heat, brown ground beef.
Drain most of the fat, then add onions and saute until translucent.
Add beans, tomatoes, green chilis, jalapenos, chili powder, minced garlic, barbecue sauce, wine, Worcestershire sauce and stir well.
Simmer on low heat for 1 hour. While the chili is simmering, make the cornbread.
Cornbread ingredients
2 cups yellow cornmeal
1 teaspoon kosher salt
1 tablespoon sugar
2 teaspoons baking powder
1/2 teaspoon baking soda
1 cup buttermilk
2 eggs
1 cup creamed corn
Cornbread directions
Preheat oven to 425 Fahrenheit. Grease a round 9 inch cake pan.
In a bowl, whisk the cornmeal, salt, sugar, baking powder and baking soda.
In a separate bowl, whisk together the buttermilk, eggs and creamed corn.
Add the dry ingredients to the buttermilk mixture and stir to combine.
Scrape the batter into the cake pan. Bake until the cornbread is golden brown, about 30 minutes. Serve the chili ladled over crumbled cornbread and topped with cheddar cheese.
Decorated sugar cookies
The more colors, the more mess! But you'll have delicious cookies that are a work of art.
Cookie ingredients
1 1/2 cups butter, softened
2 cups sugar 4 eggs
1 teaspoon vanilla extract
5 cups flour
2 teaspoons baking powder
1 teaspoon salt
Cookie directions
In a large bowl, cream together butter and sugar until smooth. Beat in eggs and vanilla.
Stir in the flour, baking powder, and salt, bringing the dough together as much as possible.
Cover, and chill dough for at least one hour.
Preheat oven to 400 Fahrenheit. Line several baking sheets with parchment paper.
Roll out dough on floured surface 1/4 to 1/2 inch thick. Cut into shapes with a cookie cutter and gently transfer to the cookie sheet.
Bake 6 to 8 minutes. Cool completely before icing.
Icing ingredients
4 cups powdered sugar
3 tablespoons meringue powder
1/2 teaspoon vanilla extract
1/2 - 3/4 cup warm water
Gel paste food coloring
Icing directions
In an electric mixer, beat the powdered sugar, vanilla extract and meringue powder until just combined.
Add 1/2 cup of water to start and beat on medium-high speed until very glossy and stiff peaks form, 5 to 7 minutes. If necessary, to get the right consistency, add more powdered sugar or water.
To color some of the icing, transfer the desired amount to a small bowl, and beat in a small amount of gel paste food coloring at a time until desired color is achieved. The icing needs to be used immediately.
Decorating tip
Use a dinner knife to spread an even layer over the surface of a cookie.
Let one layer of icing dry almost completely before applying another.
Use plastic sandwich bags with a  very small bit of a corner cut out to apply fine lines and patterns in frosting.