A kid's own kitchen tools
Developing a love of food -- all food -- in kids is a multifaceted effort. It's not just saying, "Try this," it's showing them your enjoyment of food, and letting them participate in the preparation of food, from growing and/or buying food, to actually preparing and cooking the food.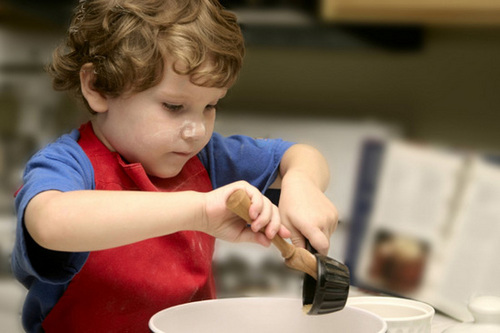 One way to encourage kids into the kitchen as part of this process is to have some kitchen tools around just for them. When your daughter can use her whisk to help with the scrambled eggs or your son can use his spatula to help get granola bars off the cookie sheet, they are much more invested in the delicious outcome. And time in the kitchen isn't just about food -- cooking with kids is also about parent child bonding and developing a child's pride. A win-win if there ever was one!
Size
When looking for kitchen tools for kids, first consider size. Just like golf clubs and string instruments that come in different sizes, so do kid-sized cooking tools. Sometimes you will find them in a kids' cooking set, and sometimes they are just smaller sized for smaller jobs but well adapted to a smaller person - but perfect for bundling into your own set. Along with those tools, invest in a kid-sized apron. Your child will likely make a tad more mess as he or she masters folding and stirring and whisking; if your child has his own apron, you won't have to toss his clothes in the laundry after each cooking adventure. Toss in a kid sized chef's hat while you're at it, just for fun.
Color
Food is colorful, and now the cookware can be, too. The rise of colorful silicone cookware means your son who will only wear purple can cook with only purple tools in the kitchen. From the basics to novelties, when thinking about cookware to get your child into the kitchen, think bold color. And as your child grows up, if he maintains that attraction to purple, he can outfit his kitchen in purple cookware. No, really!
Character
For your child who loves, loves, loves certain cartoon and/or movie characters, there often are options for cooking tools that involve those childhood favorite characters. While cookie cutters for all sorts of characters are common, they no longer stop there! There are pancake molds, cake pans, waffle irons, and more.
Cookbooks
No matter what your child's favorite cuisine, there's a kids' cookbook for him or her. Whether your child is already adventurous or needs encouragement in the form of cleverly prepared foodstuffs with goofy recipe names, you are sure to find a cookbook your child will love. Make it a practice to give your child one new cookbook a year and you'll reinforce the ideals of healthy eating and cooking on a regular basis. Getting kids involved in the kitchen is a terrific way to get them interested in new foods. Help keep that interest by making some of your cooking - and your kitchen tools - kid-friendly. Who knows? You may raise a future Iron Chef!