Sweet, savory, delicious beet recipes
Beets have fallen out of favor in recent decades, and that's a shame. Perhaps the association with borscht was just too strong, or some other reason, but whatever it was or is, beets deserve another look.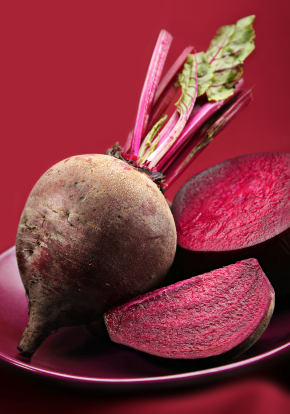 Beets are most known for their terrific color; that deep red-purple is gorgeous! But, yes, that deep color can also stain clothes, so one has to be careful working with them. Beets, however, can be a tasty, filling and nutritious addition to everything from appetizers to salads to main dishes to desserts. Some varieties of beets are grown for their sugars, after all, so their delicate sweetness (as well as color!) can be a real appeal to kids. Beets are one of those "eat the whole thing" foods. Also, beet greens can be sauteed into dishes, and the roots, whether red-purple or golden, can be eaten raw (shredded), steamed or roasted.
Roasted beets with ricotta cheese
Ingredients:
5-6 small beets, peeled and quartered
1 teaspoon olive oil
1 cup part-skim ricotta cheese
1/4 cup almond pieces, toasted
1 tablespoon honey
Sea salt and pepper
Directions:
Preheat oven to 400 degrees F.
Toss beet quarters with olive oil to coat, and spread evenly on a baking sheet. Roast for 45 minutes or until beets are tender, stirring every 15 minutes. Cool for 15 minutes.
Meanwhile, mound ricotta in the center of a serving dish and drizzle with honey. Sprinkle toasted nuts, sea salt and pepper. Arrange roasted beets around the ricotta.
Serve with fresh bread or crackers.
Beet and orange salad
A slaw-like salad that even the fussiest of eaters seem to like - or at least eat without too much drama. Ingredients:
2-3 beets, peeled and shredded
2-3 carrots, peeled and shredded
1-2 oranges, sectioned
1/2 red onion, thinly sliced (optional)
1 tablespoon orange juice
3 tablespoons olive oil
Salt and pepper to taste
Directions:
Toss the beets, carrots, oranges and onion in a serving bowl.
In a small bowl, whisk together the orange juice, olive oil, salt and pepper. Toss with the beet mixture. Let stand 10 minutes before tossing again and serving.
Beet risotto
Ingredients:
7 cups low-sodium chicken broth
4 tablespoons unsalted butter
1/4 cup olive oil
1 large sweet onion, finely chopped
2 large beets, peeled and coarsely shredded
3 cups arborio rice (1 1/4 pounds)
1 1/2 teaspoons grated Romano cheese
2 teaspoons poppy seeds
Directions:
In a saucepan, bring the stock to a simmer; cover and keep warm.
In a another large heavy-bottomed saucepan, heat the butter and oil together. Add the onion and cook over moderately high heat, stirring, until softened, 5 minutes.
Add the shredded beets and cook, stirring, until the pan is dry, 10 minutes. Spoon half of the beets into a small bowl.
Add the rice to the saucepan and cook, stirring, for 2 minutes. Add a ladelful of the warm stock to the rice and cook over moderate heat, stirring, until the stock is nearly absorbed. Continue adding the stock a ladle at a time, stirring constantly, until the rice is al dente and a thick sauce forms, about 20 minutes.
Stir in the cooked beets, cheese and the poppy seeds. Cook, stirring, until heated through. Serve.
Beet cupcakes
Excellent with a simple cream cheese frosting! Ingredients:
1 cup canola oil
1 1/4 cup sugar
3 medium eggs, separated
3 tablespoons 1 percent milk
5 ounces raw beet, peeled and shredded
1 cup roasted hazelnuts, chopped
1 1/2 cups flour
2 teaspoons baking powder
1/2 teaspoon ground ginger
1/2 teaspoon nutmeg
1/2 teaspoon cinnamon
Directions:
Preheat the oven 350 Fahrenheit. Line a muffin tin with cupcake liners.
Beat oil and sugar in large bowl, then beat in egg yolks and milk.
Fold in beets and hazelnuts.
Sift flour, baking powder, ginger, nutmeg and cinnamon together. Stir into the batter.
In a separate bowl, beat the egg whites until they are stiff. Fold the egg whites into the batter in three stages.
Fill cupcake liners and bake for 18-22 minutes or until a cake tester comes out clean.