Dates: A Middle Eastern jewel
Dates are sweet and decadent and make for some seriously tasty eating. They are an ancient and traditional element of Middle Eastern cuisines - and grow quite nicely in parts of the desert southwest in the United States. Of the many varieties, mejool dates are probably the most common in the U.S. and as a large and particularly sweet variety, it's not hard to understand why.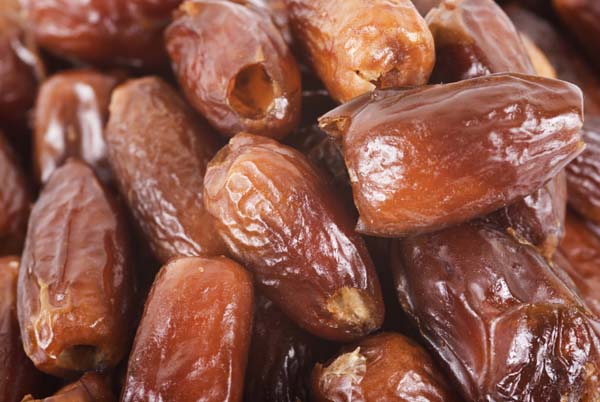 From a culinary perspective, dates are under-appreciated outside their traditional growing regions. Dried and soft dates are eaten as is, can be filled with other tasty ingredients or dipped in chocolate. Dates can be dehydrated, chopped and included as an ingredient in sweet and savory dishes from puddings to tagines. Dates have made their way into excellent Spanish tapas dishes, too. They are worth acquiring and exploring.
Stuffed dates wrapped in bacon
Ingredients:
8 slices thick-cut bacon
2 tablespoons thinly sliced green onion
1/2 cup of crumbled blue cheese
2 tablespoons cream cheese, softened
1/8 teaspoon ground black pepper
24 Medjool dates, pitted
Directions:
Microwave the bacon slices on high about 2 minutes to lightly cook. Remove from microwave and cut into thirds.
Preheat oven to 350 Fahrenheit. Line a baking sheet with parchment or coat with nonstick spray.
In a medium bowl, combine the green onions, blue cheese, cream cheese and pepper.
Fill each date with a rounded teaspoon of the cheese mixture. Wrap one-third piece of bacon around each date and place on the prepared baking sheet with the filling side up.
Bake uncovered for about 5 to 8 minutes or until the bacon is cooked. Remove from the oven, cool for 10 minutes, and serve.
Rice with almonds and dates
Ingredients:
1 cup rice
2 tablespoon unsalted butter
1/4 almonds, blanched and halved
8 dates, pitted
1/4 cup golden raisins
1 teaspoon rosewater (optional)
Directions:
Cook the rice until tender and water is absorbed.
Meanwhile, melt the butter in a frying pan over medium high heat. Add the almonds, stirring until they turn golden. Aadd the dates and raisins, and cook, stirring continuously, for 3-5 minutes. Remove from the heat and stor in the rose water, if using.
Pile the rice on a serving dish and arrange the date mixture on top of it.
Date shake
Ingredients:
1/2 cup pitted, chopped dates
3 generous scoops vanilla ice cream
1/2 cup milk
Directions:
Combine all ingredients in a blender and puree until smooth.
Date coffee cake with graham crackers
Ingredients:
2 packages active dry yeast
1/2 cup warm water
1 cup milk, scalded
1 cup butter, softened
2 teaspoon salt
3/4 cup sugar
2 eggs, beaten
4 cups flour
3 cups graham cracker crumbs
2 cups chopped walnuts
1 teaspoon cinnamon
1/2 pound chopped dates
Directions:
In glass measuring cup, sprinkle yeast on water. Let stand 5 minutes to soften, then stir to dissolve.
In large bowl combine milk, 1/2 cup sugar, salt and 1/2 cup butter. Stir until the butter is dissolved. Cool to lukewarm, then stir in eggs and dissolved yeast.
Stir in 2 cups of flour until well incorporated, then stir in remaining flour and 2 cups graham cracker crumbs. Beat until smooth and elastic.
Cover and let rise until double in bulk.
Meanwhile, melt remaining butter and place in a shallow bowl. In a separate bowl, combine with walnuts, cinnamon, remaining graham cracker crumbs and remaining sugar.
When dough has risen 2 hours, punch down. Work the dates into the dough.
Tear pieces of dough off the whole, roll in butter, then in the nut mixture and place in a greased tube pan. Let rise in warm place for about an hour. While the dough is rising, preheat the oven to 350 Fahrenheit.
Bake 45 to 50 minutes. Cool in pan 10 minutes, then remove to a serving plate to serve warm or cool.