Healthy homemade fish sticks
Fish is inherently healthy but certainly loses its nutritious appeal when breaded and deep fried. Though convenient, fish sticks out of the freezer are swimming with fat, calories and sodium. ChefMom's healthy version of fish sticks features a whole grain coating and oven-baking, which turns them into a wholesome yet kid-friendly bite.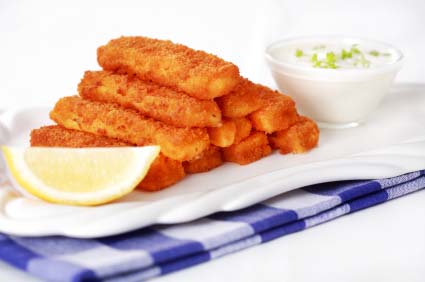 Healthy homemade fish sticks recipe
Ingredients:
1 cup whole wheat dry bread crumbs
1 cup bran, wheat, or corn flakes
1 tablespoon finely grated lemon zest
Salt and freshly ground black pepper to taste
1/2 teaspoon paprika
1 teaspoon dried dill
1/2 cup all-purpose flour
2 large egg whites, beaten
1 pound tilapia fillets, cut into 3-inch strips
Directions:
Preheat oven to 450 degrees F. Set a wire rack on a baking sheet and coat with cooking spray.
Place bread crumbs, cereal, lemon zest, salt and pepper, paprika and dill in a food processor or blender and process until finely ground. Transfer to a shallow dish.
Place flour in a second shallow dish and egg whites in a third shallow dish. Dredge each strip of tilapia in the flour, dip it in the egg and then roll in the breadcrumb mixture. Place on the prepared wire rack. Generously coat both sides of the fish with cooking spray.
Bake for 10 minutes or until the fish is cooked through and the breading is golden and crisp.