Sweet, sweet, sweet potato recipes
Although sweet potatoes have been appearing with more frequency in kid-friendly fried preparation (sweet potato fries in restaurants and sweet potato chips in the snack aisle at the grocery store), they are so much more than that. They can be mashed like a potato - but their sweetness lends itself to more complex tropical seasoning. They can be hashed like a potato, but have so much more vitamin A and antioxidants to offer! They are anti-inflammatory, too.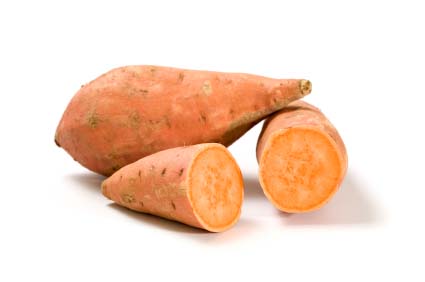 Sweet potatoes can be used in dinner recipes, desserts or even breakfasts. They can be prepared simply - baked, served with a little butter and Kosher salt, or stir-fried - or processed into pie or even biscuits and bread!
Sweet potato stir-fry
Ingredients
2 tablespoons vegetable oil
1 pound round steak, sliced thin
2 cloves of garlic, minced
1 onion, thinly sliced
1 large sweet potato, peeled and cubed
2 tablespoons Thai red urry paste
1 cup light coconut milk
Grated zest of one lime
Directions
Heat the wok over high heat until very hot.
Add the vegetable oil, swirl it around, then add the beef. Stir-fry for 2 minutes.
Add the garlic and onion and stir-fry for another 2 minutes.
Add the sweet potato, curry paste, coconut milk and lime zest. Bring to a boil, then turn down the heat and simmer 15 minutes or until the potatoes are soft.
Serve over cooked rice.
Spicy mashed sweet potatoes with lime and coconut
Ingredients
Sweet potatoes, peeled and cubed
Light coconut milk
Chipotle powder, to taste.
Fresh lime juice, to taste
Kosher salt
Directions
Cover the sweet potatoes with water in a large pot and bring to a boil over medium heat. Reduce heat and allow to simmer until soft. Drain.
Mash the sweet potatoes, adding enough coconut milk to create a creamy, smooth mash. Sprinkle in the chipotle powder to taste, then squeeze in some lime juice. Season with salt and serve.
Curried turkey sweet potato shepherd's pie
Ingredients
5 medium sweet potatoes, microwaved until soft
2 tablespoons vegetable oil
2 pounds ground turkey or chicken
2 teaspoons salt
1/3 cup flour
1 tablespoon curry powder
1 3/4 cups low-sodium chicken broth
1 1/2 pounds carrots, peeled and chopped
1 1/2 pounds parsnips, peeled and chopped
1 medium onion, chopped
1 tablespoon grated peeled fresh ginger
1 package frozen peas
1 cups milk, warmed
2 tablespoons unsalted butter
Directions
In large skillet over medium-high heat, heat 1 tablespoon oil until hot. Add turkey, season with salt and cook 5 to 6 minutes or until no longer pink.
Stir flour and curry powder into turkey; cook 1 minute, stirring. Add broth and heat to boiling. Cook 1 minute or until mixture thickens slightly. Divide turkey mixture between two ceramic baking dishes.
Preheat oven to 375 Fahrenheit. Add remaining oil to the same skillet and heat on medium until hot. Add carrots, parsnips and onion, and cook covered, about 15 minutes or until vegetables are tender, stirring occasionally. Stir in ginger, frozen peas and 1/2 teaspoon salt. Divide vegetable mixture between the two baking dishes, spreading evenly over turkey mixture.
Scoop the sweet potato flesh from skins and mash with a potato masher. Stir in milk, butter and season with salt. When well-blended, divide between the two baking dishes, spreading evenly over the top.
Bake uncovered, 35 to 40 minutes, or until top is browned.
Sweet potato bread with sunflower seeds
Ingredients
3 cups sugar
1/2 cup vegetable oil
1/2 cup butter, melted
4 eggs
3 1/2 cups flour
2 teaspoons baking soda
1/2 teaspoon salt
1/4 teaspoon vanilla
1 teaspoon cinnamon
1 teaspoon nutmeg
2/3 cup water
2 cups cooked sweet potatoes, mashed.
1 cup unsalted sunflower seeds (optional)
Directions
Preheat oven to 350 Fahrenheit. Butter and flour 3 loaf pans.
Using an electric mixer, combine eggs, oil and melted butter until well-blended. Add eggs, one at a time, beating well after each addition.
In another bowl, whisk together dry ingredients and add to wet mixture alternately with water.
Stir in sweet potatoes, vanilla and sunflower seeds, if using.
Scrape into loaf pans and bake 60 minutes or until a cake tester comes out clean.