Lean, mean veggie lasagna
A healthy rendition of lasagna, this recipe boasts lower fat, fewer calories and more vegetables than traditional lasagna recipes. When your cravings for wholesome Italian recipes arise, you can feel good about serving your family this Lean, Mean Veggie Lasagna.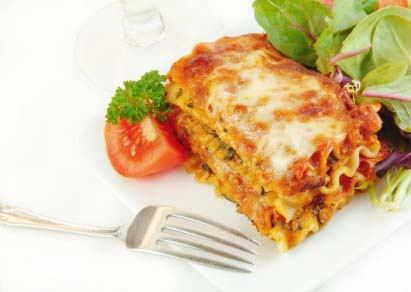 Lean, mean veggie lasagna
Ingredients
1 tablespoon olive oil
1/2 cup diced red onion
8 ounces sliced mushrooms
1 cup chopped zucchini
1/2 cup chopped red bell pepper
1  (28-ounce) jar pasta sauce
1  (15-ounce) container part-skim ricotta cheese
1/4 cup finely chopped fresh basil
6 ounces uncooked lasagna noodles, snapped in half crosswise
1 cup shredded part-skim mozzarella cheese
Directions
Preheat oven to 375 degrees F. and spray an 8-inch baking dish with cooking spray. Heat oil in a large saucepan over medium heat. Add onion, mushrooms, zucchini and bell pepper. Cook, stirring often until vegetables are softened. Add pasta sauce to the vegetables and bring to a boil. Reduce heat, and simmer 10 minutes.
In a medium bowl, whisk together ricotta and basil. Spread 1/2 cup tomato mixture in the bottom of the prepared baking dish. Arrange 4 noodle halves over tomato mixture. Top noodles with half of ricotta mixture and 1 cup tomato mixture. Repeat layers, ending with noodles. Spread remaining tomato mixture over noodles and sprinkle with mozzarella.
Cover tightly with aluminum foil and bake for 1 hour. Uncover and bake an additional 15 minutes or until cheese is bubbly and lightly browned. Let stand 10 minutes before cutting.