Healthy egg salad sandwiches
Deli salads are notoriously smothered in mayonnaise, high in sodium and loaded with calories. Egg salad gets a nutritious makeover in this delicious Healthy Egg Salad Sandwich recipe with light mayo, finely chopped veggies and whole grain bread. You can cut the fat and calories even more by replacing two of the whole hard cooked eggs with four hard cooked whites and/or making sandwiches open-faced.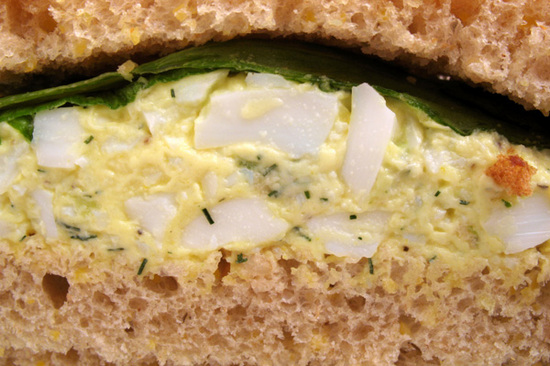 Healthy egg salad sandwich
Ingredients
5 hard cooked eggs, peeled, chopped
2 green onions, finely chopped
1 small stalk celery, finely chopped
2 tablespoons finely chopped red bell pepper
1/2 cup light mayonnaise made with olive oil
1 tablespoon Dijon mustard
2 tablespoons fresh lemon juice
1 tablespoon grated lemon zest
2 tablespoons finely chopped fresh dill
Salt and freshly ground black pepper to taste
4 whole grain ciabatta rolls, split, toasted
Directions
Combine all ingredients except ciabatta rolls in a large bowl.
Slather on the bottoms of ciabatta rolls and top with top half.