Better for you burgers
Juicy and dripping with fat, classic burgers are a hefty load of calories. This Better for You Burger recipe showcases lean ground beef, smoky spices and whole wheat buns that will please the palate of the most avid burger lover. Try this healthy burger recipe tonight!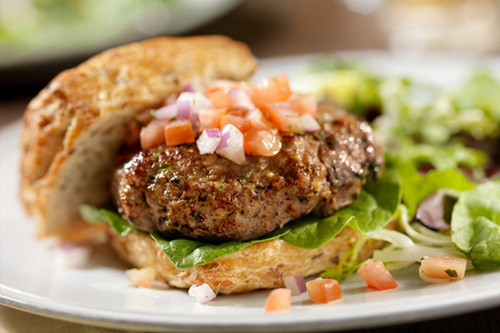 Better for You Burger
Ingredients
1 1/4 pounds extra lean beef Salt and freshly ground black pepper to taste
2 tablespoons chipotle in adobo sauce, minced
3 tablespoons minced green onions
1 clove garlic, minced
Thin slices of Monterey Jack cheese
4 whole wheat hamburger buns
Toppings of your choice
Directions
Preheat grill to medium-high.
In a large bowl, mix together beef, salt and pepper, chipotle, green onions and garlic. Form into 4 patties.
Lightly oil grill grate. Grill burgers for 4 minutes, flip, and grill an additional 4 minutes or until cooked to your desired doneness. Place cheese on the burgers, letting it melt slightly then transfer to the bottom halves of the burger buns. Serve with toppings of your choice.