Healthy baked chicken fingers
If your kids can't go past a drive-thru without wanting an order of deep-fried chicken fingers, it's time you freeze triple batches of these Healthy Baked Chicken Fingers and have them within easy reach when you get home.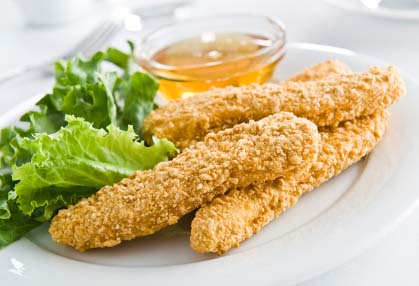 Ingredients:
1 pound boneless, skinless chicken breasts, pounded to even thickness, cut into strips
Salt and freshly ground black pepper
2 eggs
1 cup blanched almond flour
1 cup finely crushed bran, wheat or corn flakes
1 tablespoon Italian seasoning
Pinch of crushed red pepper
Directions:
Preheat oven to 350 degrees F.
Season chicken with salt and pepper and set aside.
Lightly beat eggs in a wide shallow dish. In a second wide shallow dish, mix together flour, cereal, Italian seasoning and red pepper.
Dip chicken strips in egg mixture, allowing excess to drip off. Roll chicken in cereal mixture, allowing excess to fall off. Place strips on a baking sheet.
Generously spray chicken with cooking spray and bake for 25 minutes or until coating is lightly browned and chicken is cooked through. Serve with your kids' favorite dipping sauces.