Meatloaf gets a healthy makeover
Meatloaf is a classic dish made of various ground meats, often boasting loads of fat and sodium. Leaner ground meats, whole wheat bread crumbs and fresh herbs give meatloaf a quick and easy healthy makeover.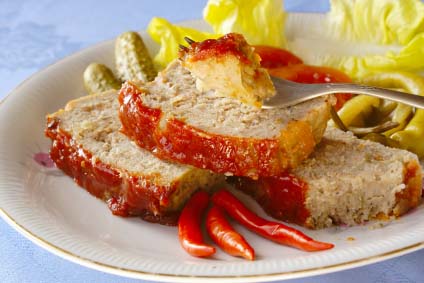 Healthy meatloaf recipe
Ingredients
1 1/2 cups whole wheat bread crumbs
2  tablespoons low-fat 2% milk
1/2 cup low-sodium ketchup, divided
1  pound extra lean ground beef
1 pound lean ground pork or turkey
1/2 cup chopped red onion
1/4  cup finely chopped fresh parsley
1 tablespoon finely chopped fresh tarragon
1 teaspoon dried oregano
1 tablespoon  Dijon mustard
Salt and freshly ground black pepper to taste
1 egg
Directions
Preheat oven to 350 degrees F. and coat a broiler pan with cooking spray.
In a large bowl, combine bread crumbs and let stand for 5 minutes. Stir in 2 tablespoons ketchup and the remaining ingredients. Use your hands to thoroughly mix.
Shape meat mixture into a 9x5-inch loaf on a broiler pan coated with cooking spray. Spread remaining 6 tablespoons ketchup over the top of the meatloaf. Bake for 1 hour or until a thermometer inserted into the center of the meatloaf registers 160 degrees F.