Pad Thai healthy makeover
When you get the craving for Thai take-out, whip out your wok and toss this healthy Pad Thai recipe onto your plate. Take-out is notoriously high in sodium, fat and calories, but with a healthy makeover Pad Thai can be just as take-out satisfying but with less oil and sodium and more veggies.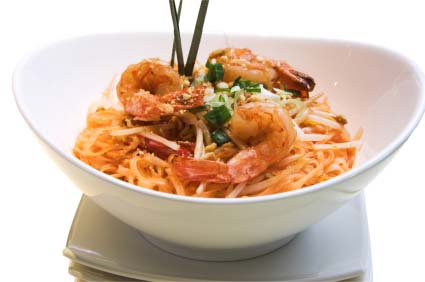 Healthy Pad Thai recipe
Ingredients:
4 ounces dried rice noodles
1 tablespoon canola oil
1 cup finely chopped broccoli florets
2 cloves garlic, minced
1 egg, lightly beaten
8 ounces shrimp, peeled, tail removed, deveined, coarsely chopped
2 cups mung bean sprouts
1/2 cup sliced green onions (green and white parts)
3 tablespoons rice wine vinegar
2 tablespoons fish sauce
2 tablespoons granulated sugar
1 tablespoon sweet chili sauce
Chopped unsalted, dry roasted peanuts
Directions:
In a large bowl, soak rice noodles in warm water for 15 to 20 minutes or until limp.
Heat oil in a wok over high heat. Add broccoli and stir-fry until just tender. Add the garlic and stir-fry for 20 seconds or until fragrant (do not scorch).
Add the egg and cook, stirring, until scrambled. Add shrimp and stir-fry until they turn pink. Drain the noodles and add to the wok, tossing with tongs until they soften and curl.
Add bean sprouts, green onions, vinegar, fish sauce, sugar and chile sauce, tossing until the noodles are heated through. Sprinkle with chopped peanuts and serve.