Healthy macaroni and cheese recipe makeover
Ooey, gooey, and oh so irresistible, classic macaroni and cheese recipes pack a load of calories and saturated fat. This healthy mac and cheese recipe showcases whole wheat pasta and a lower fat cheese sauce. Even better, chopped vegetables add color and a tasty nutritional boost to this healthy recipe.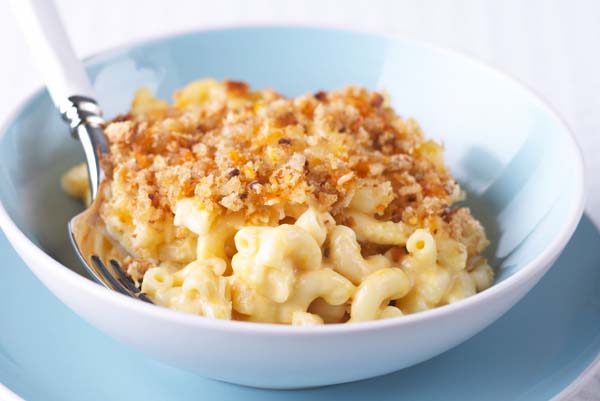 Ingredients:
8 ounces whole wheat elbow macaroni
3 tablespoons whole wheat bread crumbs
1 teaspoon olive oil
1/4 teaspoon smoked paprika
1 3/4 cups low-fat 2% milk, divided
3 tablespoons all-purpose flour
2 cups shredded smoked gouda cheese
1 cup low-fat cottage cheese
Freshly ground nutmeg to taste
Salt and freshly ground pepper to taste
1 cup sun-dried tomatoes packed in olive oil, drained, chopped
1/2 cup finely chopped orange bell pepper
1/4 cup finely chopped fresh parsley
Directions:
Cook pasta in a large pot of salted boiling water about 2 minutes short of package directions (it will cook longer in the oven). Preheat oven to 450 degrees F. and coat an 8-inch-square baking dish with cooking spray.
In a small bowl, toss bread crumbs, oil and paprika and set aside. Heat 1 1/2 cups milk in a large heavy saucepan over medium-high heat until steaming.
In a second small bowl, whisk together remaining 1/4 cup milk and the flour until smooth. Slowly add to the hot milk and cook, whisking constantly, until the sauce thickens. Remove from heat and stir in gouda until it melts. Stir in cottage cheese and nutmeg. Season with salt and pepper.
Drain pasta in a colander and then transfer back to the large pot. Pour in cheese sauce and mix well. Stir in tomatoes, bell pepper and parsley. Pour pasta mixture into prepared baking dish. Sprinkle with bread crumbs.
Bake for 30 minutes or until bread crumbs are lightly browned. Serve warm and gooey or let cool and cut into squares for easy reheating.