Healthy makeover: Quiche lorraine
Loaded with bacon and cream, Quiche Lorraine gets a healthy makeover with a whole wheat pie crust, low fat milk, flavorful feta cheese and turkey bacon. Quiche recipes can be healthy recipes too!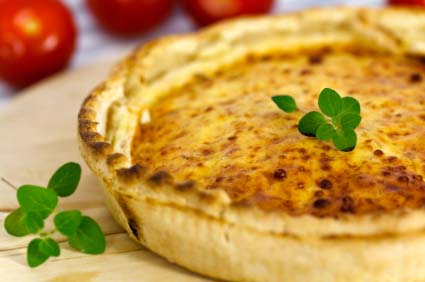 Healthy Quiche Lorraine Recipe
Ingredients:
1 (9-inch) whole wheat pastry crust
4 eggs
1 cup low fat 2% milk
1/2 cup evaporated milk
1/2 cup shredded provolone cheese
1/4 cup crumbled feta cheese
4 ounces turkey bacon, cooked until crisp, crumbled
Freshly grated nutmeg to taste
Salt and freshly ground black pepper to taste
Directions:
Roll out the pastry and line a 9-inch pie dish. Prick the pastry and refrigerate for 1 hour.
Preheat oven to 400 degrees F. Line pastry with parchment or aluminum foil and fill with dried beans or pie weights. Bake for 10 minutes then move to a wire rack to cool slightly. Reduce oven heat to 350 degrees F.
Sprinkle the bacon on the pastry. In a large bowl, whisk together eggs, milks and nutmeg. Season with salt and pepper. Pour egg mixture into pastry and sprinkle with the cheeses. Bake for 40 minutes or until custard is set and crust is lightly browned.