Good for you fish stew: Cioppino
Inherently a good for you fish stew, ChefMom lightened up on the oil to make this Cioppino even healthier. Chockfull of seafood and vegetables swimming in a flavorful tomato and red wine broth, Cioppino partners deliciously with fresh Italian bread and a green salad tossed with a tangy balsamic vinaigrette.
Cioppino recipe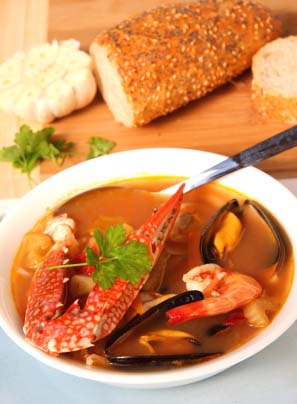 Ingredients:
1/4 cup olive oil
1 large onion, chopped
1 large green pepper, seeded, chopped
8 ounces sliced button mushrooms
2 tablespoons minced fresh parsley
3 cloves garlic, minced
1 (28-ounce) can fire roasted diced tomatoes
1 cup dry red wine
1 cup water
1 pound halibut, cut into bite sized pieces
8 ounces raw shrimp, peeled, deveined, tail removed
1 bay leaf
2 tablespoons fennel seeds
1 teaspoon ground cloves
Pinch of cayenne or more to taste
2 cooked lobster tails, cut in pieces
12 scrubbed Little Neck clams or mussels
Salt and freshly ground black pepper to taste
Directions:
Heat oil in a large stock pot over medium heat. Add onions, green pepper and mushrooms and cook, stirring often, for 5 minutes. Add parsley and garlic and cook, stirring, for 2 minutes.
Add tomatoes, wine, water, halibut, shrimp, bay leaf, fennel, cloves and cayenne. Cover pot tightly and cook for 5 to 6 minutes. Add lobsters and clams or mussels, cover pot tightly, and cook for 10 minutes or until clams or mussels open (discard any that do not). Discard bay leaf. Season with salt and pepper.