4 Ways to encourage kids to make their own lunches
On busy school mornings, lunch is often put together in a rush - maybe even with you muttering about why is it that you have to do everything. You don't. You can, from a very early age, encourage some self-sufficiency in the kitchen. Encouraging your kids to make their own lunches for school is a simple way to start.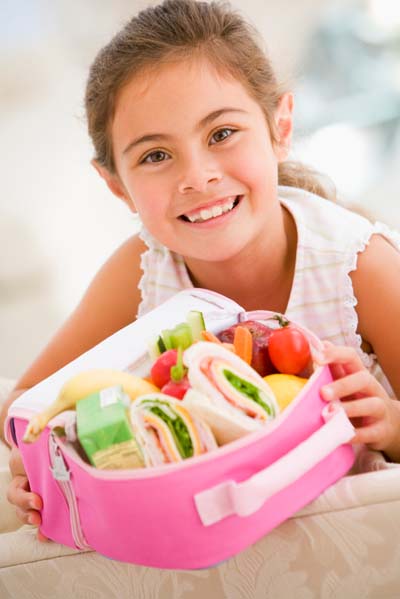 Getting kids to make their own lunches has several benefits. First, it takes one more thing to do off of you! Second, it helps kids understand what goes into getting out the door in the morning. And, third, it promotes taking responsibility for nutrition. There are other benefits, too, of course, but these are the biggies. You're not out of the picture entirely, however. You still need to set the stage so the lunch-making can happen. But you can likely do that on a weekly basis as you are putting away groceries.
1. Keep standard stuff handy
When you do your weekly marketing, make sure you pick up the basics your kids will need to put together their lunches. Whether it's cold cuts, peanut butter, crackers and cheese, carrot sticks, or whatever it is your child likes to eat, keep at least a week's worth on hand.
2. Set aside an area of the fridge and a cabinet shelf
Designate an area of the refrigerator for lunch items, and a similar cabinet area for non-perishables. This way, your child always knows where to go to gather lunch items. And it helps you designate what is for lunches (and healthy!) and what your kids probably shouldn't try to take. If you are counting on a certain item for a dinner recipe, make sure it's not in the lunch area!
3. Set a regular routine
Establish a regular time for your child to make his or her lunch. In fact, you can make it a regular part of the chore chart. Every night as part of the bedtime routine works well because you can be sure the lunch gets made and your child can grab and go in the morning.
4. Shake it up with treats occasionally
Every once in a while, shake up the items in the lunch area with a special treat. Whether it's the chips that are only for special occasions, cookies or a favorite pricier yogurt, surprise treats bring a sense of excitement and anticipation to the whole process. Your child is never quite sure what he'll find when he goes to make his lunch! Encouraging your kids to make their own lunches - and promoting ways for them to do it - is an easy way to promote responsibility and thoughtfulness about eating choices. Plus, it takes one more task off your plate. Bonus!
---
More From SheKnows Explorer
---
---