6 Breakfasts kids can make themselves
During the school year, weekday mornings are extremely busy. Multiple people trying to get out of the house to different jobs, schools and commitments all at the same time. Amid the mad dashes and crazy schedules, getting a healthy breakfast may fall by the wayside. But it shouldn't.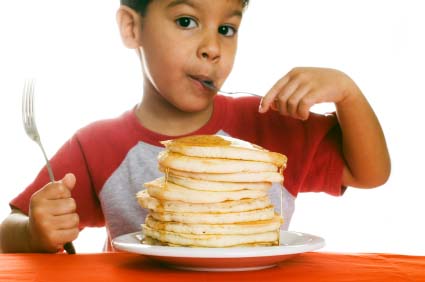 Getting kids involved with making their own breakfasts, however, can be a solution to getting something a little more substantial into the kids while still getting through your morning routine. With some careful, easily accessed choices, cooperative prep on the weekends and a little microwave and blender training, your kids (and you) can have some great choices for breakfasts all week long. Here are some healthy breakfast ideas to get you started.
1. Pancakes and waffles
Pancakes and waffles have long been morning favorites, but making them fresh every morning is often unrealistic. Instead, make a double batch on the weekends and freeze the extras. You can then pop them in the toaster or microwave to heat and serve. You can even cut them into "sticks" before freezing; they'll be easier to eat on the go and/or dip in some delicious syrup.
2. Breakfast burritos
Making a big batch of scrambled eggs and bacon on the weekend? Set some aside to build breakfast burritos that you can then wrap individually and store in the freezer. You child can then microwave the burrito in the morning and even eat it on the go if necessary.
3. Bagels and muffins and toast
Bagels and muffins are easy and tasty options - though when slathered with butter, the fat content may be concerning. Boost the nutrient value by adding a little ground flaxseed to the muffin mix and keeping things like almond butter and lox on hand for topping bagels. Those toppings also are great for toast. A toast topper like Nutella can be a once in a while treat.
4. Hard boiled eggs
Handy, walk-out-the door options for breakfast aren't limited to toaster pastries. A stash of hard-boiled eggs is a great option for protein - and not just for the weeks after Easter.
5. Dried fruits and nuts
A handful of dried fruits and nuts - a breakfast trail mix, if you will - can be quite filling. Letting your youngster fill up a sandwich bag of the mix (maybe with some granola tossed in, too), is a fairly substantial on-the-go breakfast.
6. Fruit and yogurt and smoothies
While you may not be in favor of your kids using the stove by themselves, many kids can use the blender. Mixing up a custom, unique smoothie with yogurt, fruit and juice can be a terrific nutritional start to the day. If you want to add extra protein or other nutrients to the liquid meal, shop your local health food store for powdered supplements.