Almost foolproof roasted chicken recipe
Everyone needs a go-to recipe for roasted chicken. You know the kind of recipe that you depend on that delivers every time. This is the kind of recipe that, once mastered, can evolve from the basic recipe to represent the cook, the seasons and the preferences of the family.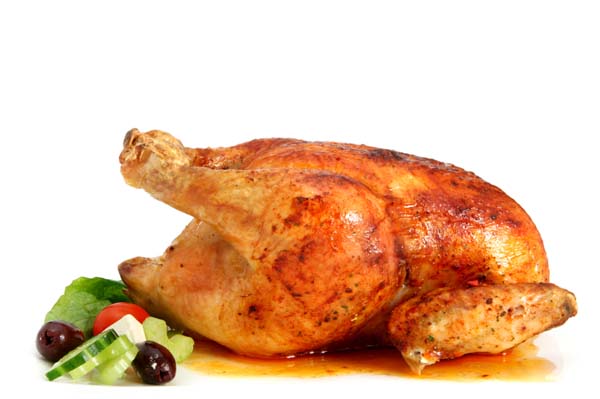 When the chicken is for guests, you can feel secure the main dish will be great and concentrate on innovative side dishes. When it's for a crazy weeknight, you can keep the chicken the focus and serve it with a fresh salad and a loaf of bread for a satisfying, kid-friendly dinner. And when the roast chicken recipe is in the 'fridge ready to go, you have enough chicken for quesadillas, chicken salad or even just late night picking.
Almost foolproof roast chicken recipe
Ingredients:
1 whole roaster chicken
1 lemon, halved
1 onion, halved
1/4 cup balsamic vinegar
1/4 cup apple cider or apple juice
Olive oil
Seasoned salt
Directions:
Preheat oven to 400 Fahrenheit.
Rinse the chicken and pat dry. Place in a roasting pan.
Squeeze the lemon halves over the chicken and place the halves, along with the onion halves in the cavity.
Whisk together the vinegar and cider/juice and pour over the chicken. Then drizzle a little olive oil over the chicken and season with seasoned salt.
Turn the chicken over so the breast side is down and place in the oven.
Roast for 30 minutes. Turn the chicken over so the breast side is up, and continue to roast until the chicken is done, about 15 minutes per pound.
Remove from oven, cover loosely with foil and let rest for 10 minutes before serving.
Make it your own
So how do you make a delicious meal like this your own? Easy recipes are easier than you think. You can:
Loosen the chicken skin and place fresh herbs under the skin for flavor. Add fresh herbs to the cavity with the lemon and onion.
Use different savory ingredients in the chicken cavity. Leeks? Meyer lemon?
Experiment with vinegars, such as fig balsamic vinegar or champagne vinegar
Experiment with different kinds of cider, or replace the cider with wine
Use different kinds of seasoned salt, or add extra herbs to the seasoning
No matter what you choose to try and what becomes a family favorite, you'll know that you can produce a delicious roast chicken with little stress and effort - and there will be some tasty dinners ahead!