Homemade convenience foods
Everyone needs a little convenience in their lives. Here we share three recipes that are not only convenient, but also affordable and nutritious!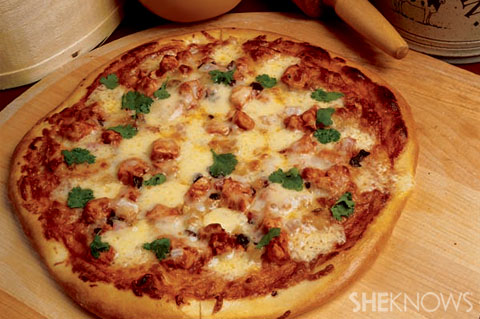 What's a mom to do when she needs some convenience food in the freezer for crazy school days, but cares deeply about feeding her kids nutritious meals that are also affordable? Well, invest in a little extra time on days she is cooking or on a weekend, and make some of her own convenience foods that she can feel really good about her family eating.
More than casseroles
Casseroles are a classic convenience food, but homemade convenience foods can be so much more. They can be homemade frozen pizza, meatballs, chicken tenders, breakfast burritos and more. Convenience foods can even be canned pasta sauce and peaches. Basically, anything you can buy as a convenience food at the market, you can make as a convenience food yourself. What are your favorite family recipes? Those can be convenience foods. Whether it's pasta or stir-fry or just about anything, you can freeze individual or family-sized portions of your favorite foods for those extra busy days. Almost anything you love to eat can be made "convenient."
Beyond your family
In addition, a regular investment of time and ingredients in convenience foods for your family can benefit your extended family as well. When you make your favorite orange chicken noodle stir-fry for your freezer, make extra and put a couple of individual servings in your grandparents' freezer as well. Take half that lasagna and take it to a busy friend's freezer for days when she could use a little extra kitchen help.
Homemade frozen pizza recipe
Ingredients:
1 quantity pizza dough
Olive oil
Toppings of your choice
Directions:
Preheat oven to 450 degrees F.
Prepare and roll out or stretch the pizza dough. Rub some olive oil onto the top of the stretched dough.
Slide the plain dough into the oven and cook for 3 minutes. Remove from the oven and cook completely.
When cool, place your other ingredients on the pizza dough (sauce, toppings, cheese and so on).
Place in the freezer on a cookie sheet until just frozen. Wrap securely in plastic and foil and label. Return to the freezer.
To cook, preheat oven to 400 degrees F. Cook for 10-15 minutes.
Frozen curry sauce
Sauces are wonderful for freezing. You can pull a delicious sauce out of the freezer and add it to just about anything from meat to vegetables for a quick and tasty meal.
Ingredients:
2 cloves garlic
1 inch ginger, peeled and finely chopped
1 cinnamon stick
2 green cardamom pods
1 whole clove
2 tablespoons vegetable oil
1 teaspoon cumin seeds
1 medium red onion, finely chopped
1-2 hot green chilies (optional)
1 cup diced or crushed tomatoes (fresh or canned)
Salt to taste
1 teaspoon coriander powder
1/2 teaspoon turmeric
2 tablespoons fresh chopped cilantro
Directions:
Combine the garlic and ginger in a blender to make a paste. Set aside.
In a medium saucepan, dry roast the cardamom, cinnamon and cloves over medium heat until they are fragrant. Take care not to burn them.
Add the oil to the saucepan and heat through. Add the cumin seeds and saute until they start to brown.
Add the onion and green chili. Stir well and then continue to stir occasionally as the onion becomes soft and translucent.
Add the garlic and ginger paste. Reduce the heat to low and saute for about 5-8 minutes, scraping the bits of paste off the bottom of the pan.
Add the tomatoes and stir well.
Add the salt, turmeric and coriander powder. Stir occasionally while you let the liquid in the saucepan reduce.
When the sauce is thick, remove from heat, cool completely and freeze.
Homemade frozen chicken nuggets
Ingredients:
Boneless skinless chicken breasts, cut into chunks or strips
Melted butter or margarine
Breadcrumbs
Parmesan cheese, grated
Directions:
Line a cookie sheet with parchment paper.
Toss the chicken pieces in the melted butter, and then in breadcrumbs combined with Parmesan cheese.
Place the breaded chicken pieces on the cookie sheet with plenty of space between them. Freeze until solid.
Transfer frozen chicken into a zip-top freezer bag.
To cook, preheat oven to 425 degrees F. Place frozen nuggets in a baking dish and bake 25-30 minutes, or until done.
More convenient foods
How to make healthy family meals with convenience foods
Convenience ingredients that really save time
Convenient food vs. health food