3 Time-saving pressure cooker recipes
The popularity of pressure cookers is on the rise and they're providing tasty solutions for families who need healthy, hearty dinner ideas that can be made in minutes (and not come out of the microwave).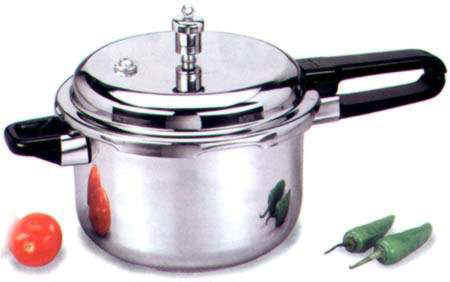 Today's pressure cookers are more stylish than the original pressure cookers and, best yet, they are designed with no-fail safety features. They also come in an array of sizes that can accommodate small side dishes up to batch cooking proportions. Here are three palate-pleasing pressure cooker recipes that are perfect for weeknights when you don't have an abundance of time or energy.
Red Snapper with Saffron Tomato Sauce
Ingredients:
Pinch of saffron threads
3 tablespoons hot water
1/4 cup olive oil
1 small onion, minced
4 (6-ounce) red snapper fillets
1 (16-ounce) can crushed tomatoes
Salt and freshly ground black pepper
2 tablespoons minced fresh parsley
4 ciabatta rolls, split, toasted
Directions:
In a small bowl, combine saffron and water. Set aside.
Heat the oil in the pressure cooker over medium heat. Add onion and cook, stirring often, until soft and translucent. Add fillets and cook for 2 minutes. Flip and add crushed tomatoes. Season with salt and pepper.
Place lid on pressure cooker and bring to high pressure. Lower heat and cook for 5 minutes. Follow manufacturer's instructions to cool.
Remove lid, sprinkle with fresh parsley and serve over ciabatta rolls.
Pressure Cooker Ratatouille
Ingredients:
3 tablespoons olive oil
1 onion, chopped
2 cloves garlic, peeled and thinly sliced
1 red bell pepper, seeded, diced
1 zucchini, trimmed, diced
1 (15-ounce) can diced tomatoes
1/4 cup water
1 teaspoon salt
Freshly ground black pepper
1 large eggplant, diced
2 tablespoons minced basil
2 tablespoons minced flat-leaf Italian parsley
2 tablespoons red wine vinegar
Directions:
Heat olive oil in a pressure cooker over medium-high heat. Add the onion, garlic, and bell pepper. Cook, stirring often, until the onion is soft.
Add the zucchini, tomatoes, eggplant and water. Season with salt and pepper. Cook, stirring occasionally, for 2 minutes.
Cover the pressure cooker and bring to high pressure over high heat. Lower the heat and cook for 4 minutes.
Cool pressure cooker according to manufacturer's instructions.
Stir in basil, parsley, and vinegar. Serve warm or at room temperature.
Pressure Cooker Chocolate Hazelnut Bread Pudding
Ingredients:
10 slices day-old French bread, cubed
1/2 cup raspberry preserves
1/2 cup coarsely chopped dark chocolate
1/2 cup chopped hazelnuts
3 eggs
4 cups whole milk
1/4 cup granulated sugar
Generous pinch of salt
1 tablespoon grated orange zest
1 cup water
Directions:
Place bread in a souffle dish. Drizzle with preserves. Add chocolate and hazelnuts, tossing to combine.
In a large bowl, whisk together eggs, milk, sugar, salt, and orange zest. Pour over bread and cover dish with foil.
Add water to the pressure cooker and insert a trivet. Place souffle dish on trivet and close lid. Bring to high pressure over high heat. Lower heat and cook for 15 minutes. Remove dish from pressure cooker. Serve bread pudding with a scoop of vanilla ice cream.