5 Easy, on-the-go breakfasts
The key to getting everyone fed breakfast on crazy mornings is some advance planning. With some weekend baking, some freezing or just being sure you have smoothie ingredients in the house, you can make sure everyone gets breakfast - without resorting to the fast food drive-thru window.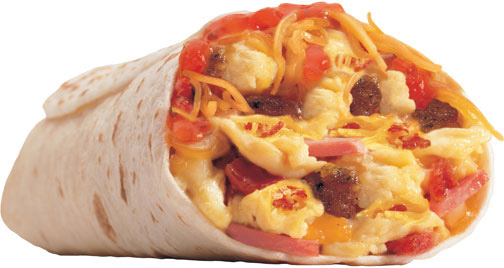 Almost any foodstuff can be made portable - but some lend themselves to portability more than others. Yes, you can take pancakes on the road, but maybe not with your beloved maple syrup. Toast and bagels are common on the go breakfast ideas -  but make the toast into a scrambled egg sandwich and fill bagels with something a little more substantial to make them more nutrient rich and filling. Muffins are an obvious quick breakfast choice, too - but mix up what kind of muffins. No matter what your morning routine, make sure everyone gets a good breakfast, even if it is just as they walk out the door. Don't forget the napkins.
Carrot muffins
Keep a stash of these in the freezer for the crazy mornings. Delicious with a smear of cream cheese Ingredients:
1 cup flour
1/4 cup wheat germ
1/2 teaspoon baking powder
1/2 teaspoon cinnamon
1/8 teaspoon salt
3/4 cup sugar
1/4 cup vegetable oil
2 egg whites
1/4 cup yogurt
1 cup finely shredded carrot
1/2 cup raisins (optional)
Directions:
Preheat oven to 400 degrees F. Line a muffin tin with paper cupcake liners.
Combine flour, wheat germ, baking powder, cinnamon and salt in a large bowl. Mix well.
In a second bowl, combine the sugar, vegetable oil, egg whites and yogurt. Mix well.
Combine the wet ingredients with the dry ingredients, then mix in the carrots and raisins. Mix very well.
Divide among the muffin cups and bake 20-25 minutes.
Homemade granola bars
After they cool, wrap the bars individually in plastic wrap for grab and go convenience. Ingredients:
2 cups rolled oats
3/4 cup packed brown sugar
1/2 cup wheat germ
1 teaspoon ground cinnamon
1 cup whole wheat flour
3/4 teaspoon salt
1 1/2 cups extras such as chopped nuts, dried fruits, or mini chocolate chips
1/2 cup honey
1 egg, beaten
1/2 cup vegetable oil
2 teaspoons vanilla extract
Directions:
Preheat the oven to 350 degrees F. Line a 9×13 inch pan with parchment paper and spray the paper with cooking spray.
In a large bowl, mix oats, brown sugar, wheat germ, cinnamon, flour, salt and the extras.
Make a well in the center of the mixture and pour in the honey, egg, oil and vanilla. Mix well.
Press the mixture into the pan, but not quite to the edges. Bake for 20 to 30 minutes until the edges begin to brown.
Cool for 5 minutes. Cut the bars while they are still warm. Store airtight.
Waffle sandwiches
Sometimes you don't even have time for your convenience foods. Sure, toasting up a frozen waffle or two sounds great, but if there's no time to get out the syrup, what do you do? Make the waffles into the "bread" for a breakfast sandwich. Ingredients:
2 waffles, fresh, or frozen and toasted
Thick, spreadable fillings such a nut butter or cream cheese
Jam or preserves, as desired
Directions:
Toast the waffles until crisp.
Spread fillings on either side as you would any other sandwich.
Breakfast burritos
These make delicious breakfast ideas and can be made ahead and frozen. Pop one in the microwave just before you head out the door. Ingredients:
Canola oil
3/4 pound chorizo sausage, casings removed and crumbled
1/2 cup finely chopped red onion
4 eggs, beaten
4 flour tortillas
1 cup shredded cheddar cheese
Directions:
Heat the oil in a large frying pan. Add the chorizo and cook over medium high heat until well browned and crumbled. Add onion and continue cooking until onion is tender.
Add the beaten eggs to chorizo mixture. Reduce heat to medium-low, and continue cooking and stirring until eggs are fully cooked and no longer runny.
Spoon mixture into the middle of each tortilla and top with shredded cheese. Roll up like a burrito and serve immediately or wrap individually and freeze.
Banana peanut butter breakfast smoothie
Pour into an insulated cup and you're ready to go. Ingredients:
1/4 cup milk
5 tablespoons instant oatmeal
1 tablespoons peanut butter
1 medium banana
1/4 cup plain yogurt or kefir
1 tablespoons ground flax seed (optional)
5-8 ice cubes
Directions:
Soak the oatmeal in milk for five minutes or so until the oatmeal softens.
Add the softened oatmeal and milk to a blender with the remaining ingredients. Puree until smooth.