Fast dinners for the first busy days of school
The first days of school are crazy busy with new schedules, new experiences, paperwork and did everyone get on the right bus? All that can make getting dinner on the table during the first nights of school a challenge.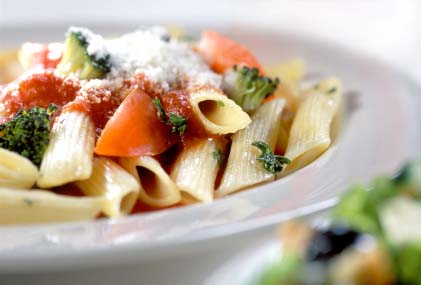 Thankfully, it's not hard to pull together a quick and healthy dinner in a hurry. Put a few prepped ingredients in the 'fridge in advance and you'll be able to whip up something in a hurry, even as you're trying to remember basic algebra.
Stove top macaroni and cheese with ham recipe
Shred the cheese and chop the ham in advance so prep work is kept to a minimum. Add in some pureed steamed broccoli for an extra vegetable boost. Ingredients:
1 pound elbow macaroni or other pasta shape
4 cups low fat milk, plus additional
2 tablespoon unsalted butter
3/4 teaspoon mustard powder
1 teaspoon Kosher salt
1/4 teaspoon nutmeg
1 cup chopped, smoked ham
2 cups grated cheese, a combination of jack, cheddar and asiago
Directions:
Rinse pasta in a colander and let drain.
In saucepan combine milk, pasta, salt, butter, mustard powder and nutmeg. Bring to a simmer over medium heat, stirring frequently. Turn down the heat to low.
Continue to stir the mixture frequently so that the pasta absorbs the milk evenly. Cook 15-20 minutes, until milk is totally absorbed. Test the pasta to be sure it's cooked; if not, you can add a little more milk.
Stir in grated cheese and ham.
Cover and turn off heat. Let sit 5 minutes before serving.
Pasta with marinara sauce and roasted vegetables recipe
Roast some extra onions, peppers and squash when you grill on the weekend; you'll be ready for a weeknight in a flash. Add a green salad and maybe some garlic bread and the meal will feel like a feast. Ingredients:
1 pound pasta, preferably whole wheat
1 jar marinara sauce
Olive oil
Mixed grilled vegetables such as onions, peppers and zucchini, chopped
Romano cheese for grating
Directions:
In a large pot, cook the pasta to al dente.
Meanwhile, in a heavy saucepan, heat the oil. Add the chopped veggies and saute for just a minute or so to reheat. Turn down the heat and add the marinara sauce. Cover and let simmer while the pasta cooks.
Drain the pasta and add to the pot with the marinara sauce. Toss to coat, then let cook together for a couple of minutes.
Serve topped with cheese.
Layered dinner nachos recipe
Nachos for dinner? Really? Yup. Keep the focus on fresh salsa and shredded chicken and it can be more nutritious than you think. Ingredients:
Tortilla chips, preferably a combination of yellow, blue and red for terrific visual interest
Cooked, shredded chicken
Fresh salsa, homemade if possible
Cheddar and/or Jack cheese, grated
Jalapeno peppers, sliced (optional)
Sour cream (optional)
Guacamole (optional)
Directions:
Preheat broiler to high.
On a large cookie sheet, spread out a scant layer of tortilla chips. Place shredded chicken and spoonfuls of salsa on top. Sprinkle cheese over the chips, chicken and salsa. Dot with sliced jalapenos.
Repeat with another layer of chips, salsa, cheese and peppers. Make sure there is chicken and/or salsa for every bite.
Place under the broiler for several minutes until the cheese melts. Don't let it scorch.
Serve with sour cream and guacamole, if desired.
Blue cheese chicken salad wraps recipe
Ingredients:
1 head of iceberg lettuce
2-3 tomatoes, cut into wedges
1 rotisserie chicken, cooled
Blue cheese salad dressing
Large tortillas or sandwich wraps
Directions:
Shred the lettuce and place in a bowl. Add the tomatoes.
Tear the meat off the chicken and add to the bowl. Toss well with blue cheese dressing.
Place in a tortilla and wrap.