Creative back to school lunch recipes
Who says your kids' back to school lunches have to consist of the usual sandwich with deli sliced meat and cheese? These creative lunch recipes are a delicious surprise and a sure bet your kids won't be trading in their brown bags for cafeteria fare.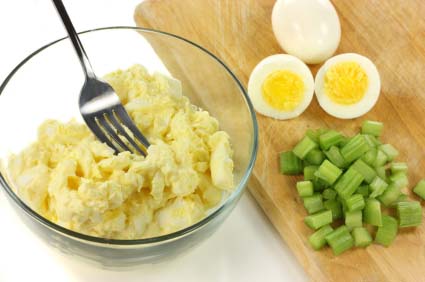 Egg Salad Sandwich with Broccoli and Feta recipe
Hard-cooked eggs are one of the best proteins your kids can eat. Mix them with light mayo, steamed-tender broccoli and tangy feta, and you've got a healthy back to school lunch worth craving. This sandwich is a great way to use up leftover broccoli from last night's dinner. For a change, substitute other steamed vegetables you have on hand.
Ingredients:
2 hard-cooked eggs, peeled, chopped

3/4 cup chopped steamed broccoli

3 tablespoons light mayonnaise made with olive oil

1 to 2 tablespoons plain yogurt, depending on desired moistness

3 tablespoons crumbled feta

1 tablespoon finely chopped fresh parsley

4 slices whole wheat sourdough bread, toasted

2 romaine lettuce leaves
Directions:
In a medium-sized bowl, combine eggs, broccoli, mayonnaise, yogurt, feta and parsley.

Spread egg salad on two pieces of toasted bread, add a leaf of lettuce and top with remaining bread. Cut in half and place in a reusable lunch bag or plastic container.
Salmon Cakes recipe
Canned tuna is old-hat, entire fillets of salmon are impractical, but these easy to bake salmon cakes are a kid-friendly, healthy fish dish. Don't forget to include a small container of your kids' favorite sauce for dipping.
Ingredients:
1 egg

1/2 cup milk

2 cups flaked cooked boneless, skinless salmon

Juice of half of 1 lemon

1/2 cup dried whole wheat bread crumbs

1 tablespoon olive oil

2 tablespoons minced red onion

Salt and freshly ground black pepper
Directions:
Preheat oven to 350 degrees F.
In a medium-sized bowl, whisk together egg and milk. Add salmon, lemon juice, bread crumbs, olive oil and red onion. Season with salt and pepper.
Divide mixture into a 6-cup muffin pan. Bake for 30 minutes. Let cool completely and store in the refrigerator in an airtight container for up to 2 days.
Soba Shrimp Rolls
When it comes to creative back to school lunches, even sushi isn't out of the question. Best yet, these soba shrimp rolls are easy enough for the kids to make. Serve rolls for dinner and take for lunch the next day. Pair with soy sauce, miso or wasabi paste for dipping.
Ingredients:
4 ounces soba noodles

12 sheets nori

20 medium-sized cooked, peeled shrimp, chopped

2 cups baby spinach
Directions:
Cook soba noodles in a pot of salted boiling water according to package directions. Drain a colander and run cold water over them to stop cooking. Divide into 12 evenly-sized portions, arranging them straight.
Wrap a sushi mat with plastic wrap and place a nori sheet on the mat. Add one portion of noodles, stretching noodles across the width of the sheet. Leave a 1-inch border on the edge farthest from you.
Scatter with shrimp and spinach. Roll nori over the filling, tightly enclosing the ingredients. Repeat with remaining nori sheets and filling. To serve, trim the ends of each roll then slice into 8 pieces.