Onion, garlic & cucumber recipes for your CSA haul
As much as you plan for and use all your CSA produce, sometimes you just don't know what to do. Here are a few really terrific recipes to help you use your onions, garlic and cucumbers in delicious ways you never imagined.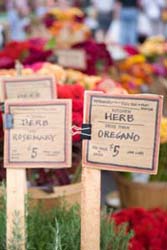 Onions
The first onions are likely coming out of the ground. They may be on the small side - to thin out the crops to let other onions grow bigger for later harvesting. Note: Fresh from the ground onions should not be kept in plastic! Keep them in an open basket on the counter until they dry out a bit. Better yet, use them!
Balsamic-glazed onion galette with brie recipe
Ingredients:
1 sheet puff pastry,thawed
1/3 cup balsamic vinegar
1/3 cup packed dark brown sugar
1 tablespoon lemon juice
Pinch of salt
1 tablespoon olive oil
1 tablespoon unsalted butter
2 large onions or several small ones, peeled and thinly sliced
Pinch of thyme
Pinch of cumin
6 ounces brie, in 1/4 inch slices.
Directions:
Preheat oven to 400 degrees F. Lightly oil a cookie sheet.
In a saucepan over medium heat, dissolve brown sugar in balsamic vinegar. Add lemon juice and pinch of salt. Let simmer ever medium heat and reduce until glaze covers the back of a spoon.
Melt butter and heat oil together in a large skillet. Add onions, pinch of cumin, pinch of thyme and sautee over medium heat until onions are translucent, then lightly caramelize (but don't burn!), 10 minutes or so.
Pour the balsamic glaze into the onions and stir well to coat. Turn heat up on the skillet.
Lay the thawed puff pastry sheet out on the cookie sheet. Using tongs, pick up some of the onion and let any excess glaze drip back into the pan. Place the onions on the sheet of puff pastry, leaving a 1-2" border all around the edges.
Fold up the edges of the pastry to form a  an outer crust to the gallette. Pinch overlaps together so they hold as the galette bakes.
Let the little remaining glaze further reduce for five minutes.
Arrange the brie slices as you like on top of the onions. Drizzle the remaining glaze over the top of the galette, covering the cheese.
Bake for 15-20 minutes until the pastry is golden brown. Remove from oven and transfer to a serving plate. Let cool for 10 minutes before serving.
Garlic
Green garlic fresh from the field - garlic that hasn't been hung to dry out a bit - is juicy and sharp. But recipes like this bring out the sweetness of garlic. If you can't use up all your green garlic right away, hang it to dry in a dark and dry place, then store it in a basket - not in plastic.
Roasted garlic pasta recipe
Ingredients:
6 tablespoons unsalted butter, divided
1/2 cup onion, finely chopped
6 cloves garlic, coarsely chopped
1 cup chicken stock
2 tablespoons chopped fresh rosemary
1 pound spaghetti
1/4 cup grated Parmesan cheese
Kosher salt and cracked black pepper to taste
Directions:
Melt 4 tablespoons of butter in a large skillet over low heat. Add the onions; cook and stir until they turn a deep brown, about 10 minutes.
Stir in the garlic and cook for 2 minutes, until fragrant. Mix in the chicken stock and rosemary, and increase the heat to medium-high. Cook until reduced by 1/3, about 8 minutes.
Meanwhile, bring a large pot of lightly salted water to a boil. Add the pasta, and cook until tender, about 8-10minutes. Drain, then add pasta to the sauce in the skillet.
Stir in the remaining butter and Parmesan cheese. Season with salt and pepper. Garnish with extra cheese and rosemary sprigs.
Cucumbers
You may never have purchased more than one cucumber at a time before this. Suddenly you have three or four or more a week! If you've never done more with cucumbers than slice them onto green salads, now is the time to try something new.
Asian cucumber salad recipe
Ingredients:
3/4 cup seasoned rice vinegar
1/4 cup water
1 tablespoon sugar
1 tablespoon garlic, minced
1 tablespoon low-sodium soy sauce
1 teaspoon sesame oil
1/2 teaspoon freshly ground pepper
2 large cucumbers, peeled and sliced
2 tablespoons sesame seeds, toasted
Directions:
Whisk together vinegar, water, sugar, garlic, soy sauce, sesame oil and pepper in a large bowl.
Add cucumbers, tossing to coat. Cover and chill 1 hour.
Add sesame seeds just before serving, and toss.
Chilled cucumber and mint soup recipe
A cool, refreshing soup for a hot summer night. Ingredients:
1 English cucumber, peeled, seeded, and finely diced (about 1 3/4 cups)
1 teaspoon salt, divided
1 small garlic clove
1/8 teaspoon freshly ground pepper
2 cups plain low-fat yogurt
1/4 cup finely chopped fresh mint
Fresh whole chives
Extra-virgin olive oil
Directions:
Combine cucumber and 1/2 teaspoon salt. Let stand 15 minutes; do not drain.
Combine garlic with remaining 1/2 teaspoon salt. Stir garlic mixture and pepper into yogurt.
Add cucumber and its liquid to yogurt mixture. Puree in a blender (or with a hand blender) until smooth.
Garnish with chives and drizzle with olive oil.