Summer corn recipes
Late summer is corn season. Farm stands have popped up all over the place offering cobs of sweet, plump kernels picked just that morning. Corn soup, corn flan, corn fritters, corn salsa - they are all terrific ways to enjoy the bounty of summer corn. Take your enjoyment of corn to the next level with these delicious corn recipes.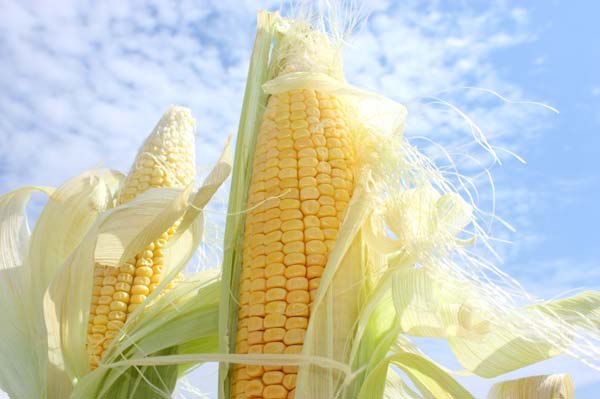 Corn flan recipe
Tasty with a little salsa and corn kernels as garnish. Ingredients:
3 ears fresh corn, shucked
2/3 cup milk
2 large eggs
1/2 teaspoon salt
1/8 teaspoon cayenne
Directions:
Preheat oven to 350 degrees F. Lightly oil four ramekins.
Cook corn cobs in a pot of boiling water about 5 minutes. Drain and cool.
Cut off kernels off the cob and scrape ("milk") the ears. Reserve 3/4 cup for garnish. Place the remainder of the corn in a blender and puree with milk until smooth.
Force corn-milk through a fine sieve into a bowl, discarding solids.
In another bowl, whisk together eggs, salt and cayenne until blended, then whisk in corn purée.
Divide flan mixture among ramekins. Place in a baking dish and fill the baking dish with hot water to halfway up the sides of the ramekins. Place in the oven and bake until set, about 40 minutes.
Remove ramekins from water bath and cool on a rack. Chill until cold, about 2 hours.
To serve, turn out onto a plate and top with salsa and reserved corn kernels for garnish.
Roasted corn and black bean salsa recipe
You can grill the corn instead of roasting it, if desired. Ingredients:
5 ears corn in the husk
2 cups black beans, cooked and drained
Several chilis of your choice (to your desired heat level), roasted, peeled, seeded and finely chopped
5 plum tomatoes, roasted, peeled and chopped
1/4 cup fresh cilantro, chopped
2 teaspoons minced fresh oregano
1/2 small red onion, finely chopped
2 cloves garlic, minced
Juice from 1 large lime
1 teaspoon of sugar
Salt and ground black pepper to taste
Directions:
Preheat the oven to 400 degrees F. Soak corn in water for 30 minutes.
Place ears of corn on the oven rack and roast until outer husks brown, about 20 minutes. Cool corn slightly, then husk and slice the kernels off the cob.
Mix corn, black beans, chilis, tomatoes and the remaining ingredients. Combine thoroughly. Let stand at room temperature for 1 hour to blend flavors before serving.
Corn, watermelon and

tomato salad recipe

The best summer ingredients, all in one dish! Ingredients:
3 large tomatoes, chopped
2 cups seedless watermelon, cubed and drained
2 cups roasted corn kernels
1/4 cup fresh basil leaves, chopped
1/4 cup olive oil
2 tablespoons balsamic vinegar
salt and pepper to taste
Directions:
Gently toss the tomatoes, watermelon and corn in a bowl.
In a smaller bowl, whisk together basil, oil, vinegar, salt and pepper. Gently toss with the tomatoes, watermelon and corn.
Chilled cream of corn soup recipe
This soup comes together very quickly. It can be served hot or cold. Ingredients:
2 tablespoons unsalted butter
3 ears of yellow or white corn, shucked and kernels cut off the cob
2 cups heavy cream
1 teaspoon thyme
Salt to taste
Basil or basil oil for garnish
Directions:
In a medium saucepan, melt the butter over medium heat. Add the corn and cook for about 3 or 4 minutes.
Add thyme and cream, stirring until the soup starts to simmer again. Cook another 3-4 minutes.
Remove from heat and puree using a hand blender or regular blender until smooth.
Put it in a bowl, cover with plastic wrap and refrigerate overnight.
Serve with a drizzle of basil oil or chopped fresh basil leaves for garnish.
Corn fritters recipe
The sweeter and fresher the corn, the more likely these are to stick to your teeth as you bite into them, but in a good way! Ingredients:
6 ears of corn, shucked and kernels cut off the cob
2 eggs, separated
1 tablespoons sugar
1/4 teaspoon salt
1/8 teaspoon  pepper
2 tablespoons flour
Canola oil
Salt and pepper to taste
Directions:
Place the corn kernels in a large bowl.
In a smaller bowl, beat together the egg yolks, sugar, salt, pepper and flour. Stir into the corn kernels.
Beat the egg whites to still peaks. Fold them into the corn mixture.
Heat the oil in a heavy wide frying pan. When the oil is very hot, place spoonfuls of the corn mixture into the oil, then flattening with the back of the spoon. Brown on each side, then carefully remove and drain on paper towels.
Season with salt and pepper and serve immediately.