Recipes for a late summer potluck
The end of summer may be in sight, but there are still barbecues and potlucks to attend. So try these delicious and fun summer potluck recipes for a tasty break from boring old potato salad.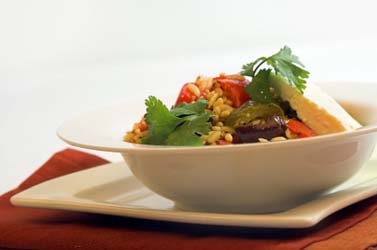 For your next gathering, go for color, fresh flavors, cool temperatures and fresh from the garden ingredients like red peppers, cabbage, beets and mint. Add in pantry basics like pasta and peanut butter - and seek out some terrific, tasty out-of-the-ordinary ingredients like mango, blood orange and Meyer lemon. Look for recipes that aren't heavy; light is the name of the game in the heat of late summer.
Mango slaw recipe
Ingredients
2 slightly under-ripe mangoes, peeled, pitted and julienned
1 pound Napa cabbage, halved and sliced very thinly
2 large carrots, julienned
1 red pepper, julienned
1/2 red onion, thinly sliced
Juice of two limes
1/4 cup rice vinegar
2 tablespoons canola oil
1/2 teaspoon salt
1/4 cup thinly sliced fresh mint leaves
1/4 cup toasted cashews, coarsely chopped
Directions
Toss mangoes, cabbage, pepper, carrots and onion in a large bowl.
In a smaller bowl, whisk together lime juice, vinegar, oil, salt and red pepper; toss with the slaw. Refrigerate 2 hours.
Just before serving, toss with mint leaves and sprinkle with nuts.
Orzo, asparagus and shrimp salad recipe
Ingredients
3/4 pound shrimp shelled and deveined, shells reserved (larger shrimp are easier to shell and devein)
1 clove garlic, minced
4 tablespoons olive oil, divided
1/2 orzo pasta
1 pound fresh asparagus, trimmed and cut into 1 inch pieces
2 green onions, thinly sliced
1 tablespoon white balsamic vinegar
1 tablespoon fresh lemon juice
2 teaspoons honey mustard
2 tablespoons minced fresh basil
Kosher salt and pepper to taste
Directions
In a skillet over medium heat, heat 2 tablespoons of olive oil.
Saute the shrimp and garlic, stirring frequently to prevent the garlic from browning.
When shrimp are cooked through, remove from heat, and cool.
Bring a pot of water to a boil. Add shrimp shells and boil for 5 minutes; then strain out shells and discard.
Add the orzo and cook for 5 minutes. Stir in the asparagus pieces and continue cooking until the pasta is al dente, about 4 minutes. Drain and rinse in cold water.
Toss pasta and asparagus with 2 tablespoons of olive oil, shrimp and green onions until evenly coated.
In a separate bowl, whisk the vinegar, lemon juice, mustard and basil. Toss with pasta mixture, season to taste with salt and pepper.
Chill for 2 hours before serving.
Sesame noodles recipe
These are easily made the night before. For noodles with a kick, use half hot sesame oil and a dash of chili flakes.
Ingredients
8 tablespoons chunky peanut butter
4 tablespoons chicken broth
10 tablespoons low-sodium soy sauce (use water for a vegetarian version)
6 teaspoons sesame oil
2 tablespoons cider vinegar
3 tablespoons honey
2 to 3 cloves garlic, minced
4 tablespoons canola oil
1 pound long, thin pasta cooked, drained and chilled
2 tablespoons sesame seeds
3 to 4 scallions, chopped
1 medium cucumber, julienned
Directions
Combine peanut butter, broth and soy sauce in a small saucepan. Heat over low heat, stirring often, until the mixture is liquid and smooth.
Stir in oil, vinegar, honey, garlic and canola oil. Whisk until smooth.
Pour over pasta and toss thoroughly. Top with scallions and cucumbers. Refrigerate until cold.
Beet salad with blood oranges recipe
Ingredients
4 beets
3 tablespoons olive oil
1 tablespoon white balsamic vinegar
Kosher salt and freshly ground pepper to taste
3 blood oranges
1/2 small red onion, thinly sliced
Small handful fresh mint leaves, thinly sliced
Directions
Preheat oven to 375 F.
Clean and peel the beets.
Place in a shallow covered baking dish and add about 1/4 inch of water. Cover and bake 50 minutes. Let cool completely.
In a small bowl, whisk together the oil, vinegar and salt and pepper.
Slice the oranges thinly, then remove the peel and the thin later of outer membrane. Slice the beets thinly and arrange the beets and oranges on a serving platter.
Sprinkle the thinly sliced onion on top and drizzle with the dressing. Garnish with mint.
Meyer lemon wafers recipe
Meyer lemons are a little sweeter than regular lemons. If you can't find Meyer lemons, use regular lemons.
Ingredients
1 cup butter, softened
1 cup sugar
1 teaspoon grated Meyer lemon rind
2 tablespoons fresh Meyer lemon juice
1 egg
2 1/2 cups flour
1/4 teaspoon salt
1/4 teaspoon baking soda
Directions
Cream butter and sugar until light and fluffy.
Add lemon rind and lemon juice, then add the egg and beat well.
In a separate bowl, combine the flour, salt and soda.
Gradually blend the flour mixture into the butter and sugar mixture.
Form into "logs" of dough about 1 1/2 inches in diameter. Wrap logs in waxed paper and refrigerate until firm.
Preheat oven to 400 F and grease a cookie sheet. Slice the logs into very thin slices and place on cookie sheet.
Place the cookie sheet in the oven, then immediately lower heat to 350 F and bake for about 4-5 minutes.
Cool and serve.