Tasty, healthy ways to stay hydrated
Water is a gold standard when it comes to healthy hydration, but plain water can leave a lot to be desired when it comes to taste bud excitement. If you bypass the high-sugar, empty-calorie juices and energy drinks, you'll be delighted at the growing selection of delicious and nutritious beverages on the supermarket shelf. Here are some of ChefMom's favorite ways to stay hydrated.
HINT Premium Essence Water
In 10 luscious flavors, HINT is a refreshing unsweetened essence water that has no calories, sugar or artificial ingredients. Satisfying sipped right out of the bottle, HINT flavored waters can also be blended into mocktails and cocktails. Try HINT Blackberry stirred with muddled mint leaves and fresh blackberries or make a frosty blender drink with HINT Mango-Grapefruit, fresh mango slices and generous splashes of rum and coconut milk. Other HINT flavors include: Pear, Watermelon, Cucumber, Raspberry Lime and Pomegranate-Tangerine.

Twist
Put a twist in your hydration and take a refreshing swig of Twist -- a low-calorie USDA certified organic flavored water. Available in Lemon, Mandarin White Tea, Mango Acai, Pomegranate Blueberry and West Indies Lime flavors, Twist is made with pure juices, fruit essences and agave nectar. This tasty, non-carbonated, preservative-free water makes hydration a welcome and diet-friendly endeavor for kids and adults alike.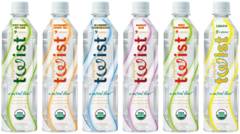 Vita Coco
The health benefits of coconut can now be sipped in Vita Coco's 100% Natural Coconut Water. Made of the sweet coconut water of green coconuts, Vita Coco is naturally loaded with electrolytes (potassium, magnesium, phosphorous, sodium and calcium) and is a fat-free and cholesterol-free drink. Coconut water is extolled for its beneficial effect on the skin, immune system and digestive health. Bonus: It just tastes good.

RW Knudsen Recharge
Whether you need to replenish your fluids and electrolytes after a play day at the park or a sweaty hour at the gym, you can skip the neon blue sports drinks and sip on RW Knudsen's Recharge, an all-natural sports drink made with RW Knudsen's signature juices (drinks are 50% juice). You go the extra mile. You push your body to the limit. Reward it with a recovery beverage that has no added sugar or artificial ingredients and, best yet, tastes great! Recharge flavors include: Grape, Green Apple, Lemon, Mixed Berry, Orange and Tropical. RW Knudsen also has a line of Sparkling Essence waters to wet your whistle.

It Tastes Raaw Juices
Raw Foods International has taken the "ewwww" out of fruit and vegetable drinks. Instead of letting your kids sip on a drink laden with high fructose corn syrup and artificial dyes, hand them a naturally vibrant-colored Raaw bottle of Carrot Lemonade, Cranberry Ginger, Better Beets and Cucumber Pineapple. Each bottle is loaded with antioxidants, vitamins and minerals inherent in the juices' ingredients, giving your family a tasty way to augment their daily nutrition. Worthy of noting, these juices also won "Best Non-Alcoholic Beverage in the Americas" at the Western Hemisphere Premier Food & Beverage Show in Miami in September 2008.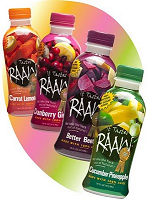 Honest Kombucha
Looking for a another delicious drink that goes beyond simple hydration? Honest Kombucha is an ancient Chinese tonic with live active probiotic cultures that is purported to have overall healing properties. For centuries, the Chinese have claimed that Kombucha is a "fountain of youth elixir." Honest offers this organic drink is three flavors: Lemon Ginger, Peach Mango and Berry Hibiscus. You can find Honest Kombucha at natural food stores.