Back to school make-ahead meals
Back to school is on the horizon, putting you under the gun to finesse your time management skills and get healthy family meals on your dinner table every night. Having a delicious, nutritious selection of make-ahead meals in your weekly meal plan can keep your family well-fed while keeping your daily dinner prepping stress-free. Here are three scrumptious make-ahead meals that are quick to fix and just as tasty to take for lunch the next day.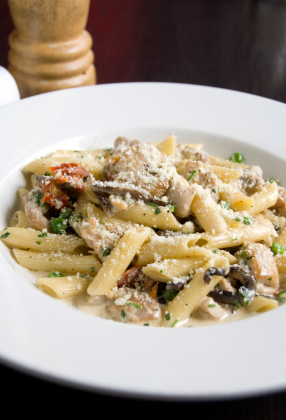 Make-ahead back to school recipes
Chicken Pasta Salad with Mango Chutney Dressing*
Serves 8 The near endless – and delicious – variations of pasta salad make it a convenient go-to meal when you need a substantial dish in fast fashion. This particular pasta salad recipe is adapted from a Jerk Chicken Pasta Salad from Pampered Chef. You can serve it warm or cold. Ingredients: 1 pound fusilli or penne pasta 1 pound boneless, skinless chicken breasts, cut into bite-sized pieces 2 tablespoons Jerk Seasoning 2 tablespoons canola oil 2 cups fresh pineapple chunks 3 green onions, chopped (green and white parts) 4 slices of bacon, cooked, crumbled 3 tablespoons minced fresh mint Grated zest of 1 lime Juice of 2 limes 1 cup light mayonnaise 1/2 cup mango chutney Salt and freshly ground black pepper to taste Directions: 1. Cook pasta in a large pot of salted boiling water until al dente according to the package directions. Drain and transfer to a large bowl. 2. Meanwhile, rub chicken with Jerk Seasoning. Heat oil in a large wide skillet over medium heat. Cook chicken, stirring occasionally, until browned and cooked through. Using a slotted spoon, transfer to the large bowl. 3. Add pineapple to the skillet and cook until lightly browned. Add pineapple, pasta, green onions, bacon and mint to the bowl, tossing to combine. 4. In a small bowl, whisk together lime zest, lime juice, mayonnaise and chutney. Pour over pasta salad, tossing to coat. Season with salt and pepper. Cover bowl and chill in the refrigerator for up to 2 days. Serve cold or reheat in a skillet to serve warm.
Slow Cooker Shredded Mexican Beef
Having this succulent meat dish on hand means you can have burritos in minutes or an easy filling for enchiladas or tamales. You can also serve it over rice. Ingredients: 2 1/2 pounds beef sirloin, or your choice of cut 1/4 cup dry red wine, or 1 cup beef broth 2 onions, chopped, divided 1 garlic clove, minced 2 bay leaves 1 tablespoon dried oregano Salt and freshly ground black pepper to taste 2 tablespoons olive oil 2 green bell peppers, chopped 1 small can diced green chiles 2 (15-ounce) cans tomato sauce 1 tablespoon Worcestershire sauce 1 teaspoon ground coriander 1 teaspoon ground cumin 1/4 cup finely chopped fresh cilantro Directions: 1. Place beef, wine/broth, half of the onions, garlic, bay leaves and oregano in a slow cooker and cook on LOW for 8 to 10 hours. Let cool slightly and shred the meat using two forks. 2. In a large saucepan, heat oil over medium-high heat. Add remaining onions and green peppers and cook, stirring often, until vegetables are softened. 3. Add shredded meat, diced chiles, tomato sauce, Worcestershire, coriander and cumin. Bring to a low boil then reduce heat to medium-low and simmer 30 minutes or until sauce has thickened. Add cilantro and season with salt and pepper. 4. Let meat cool and store in the refrigerator for up to 3 days or freeze for up to 3 months.
Quick Crab Cakes
Make a double batch of crab cakes and keep them in the freezer for individual servings or family meals. They make great first course nibbles for dinner parties, too. Serve with a remoulade sauce or tartar sauce. Ingredients: 1 pound lump crab meat, picked over, cartilage or shell removed 1/2 cup panko 1 green onion, minced (green and white parts) 1 egg 3 tablespoons light mayonnaise 1 teaspoon Dijon mustard 1/2 teaspoon Old Bay Seasoning Salt and freshly ground black pepper to taste 2 tablespoons canola oil Directions: 1. In a large bowl, combine crab, panko, onion, egg, mayonnaise, mustard and Old Bay. Season with salt and pepper. Form into 10 to 12 crab cakes (2 per serving). 2. Refrigerate crab cakes in an airtight container for up to 2 days or wrap individually in freezer wrap and freeze for up to 1 month. 3. When ready to serve, heat oil in a large skillet over medium-high heat. (Thaw frozen cakes in the refrigerator overnight before cooking.) Cook crab cakes for 2 to 3 minutes per side or until golden on the outside and heated through.