Sushi rolls you can make at home
Making sushi at home is a great way to offer a variety of nutritious elements in one attractive dish - and your kids may not realize they are getting their veggies with their special treat. Also, if there are any allergies in the family, making sushi at home can help you control that serious concern. And on a hot summer night? With prepared ingredients from the 'fridge, there's no heating up the house. Sushi is an impressive appetizer in any form for summer entertaining, too.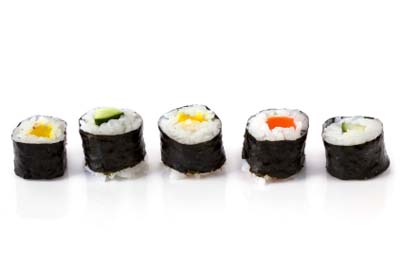 The drama and deliciousness of sitting at a good sushi bar and watching delectable treats being made is hard to beat. Sushi chefs are often performers as much as they are food service professionals! Sometimes, though, you want sushi without the going out effort. Thankfully sushi is easy to make at home!
The wrapper The green outside of sushi is nori, which is pressed seaweed. While it's crisp and rather delicate straight out of the package, it softens up considerably after it comes in contact with the moist inner ingredients in a sushi roll. You do not have to do anything to nori to prepare it for sushi rolls except lay it down on a sushi rolling mat or a barely damp clean kitchen towel. The rice Sushi rice is a short-grained rice (available at most markets) tossed with a vinegary-sweet dressing. It's this dressing that gives the rice its distinctive flavor in sushi rolls. While you can purchase premade sushi vinegar in the international section of your local market, you can also make it yourself just as easily. The good stuff in the middle What really makes sushi rolls at home special is the ability to customize to your heart's content. Sushi rolls don't have to mean fish. You can make vegetarian sushi rolls - or even "sushi" rolls with strips of meat! Spam sushi rolls, for example, are popular in Hawaii - and surprisingly tasty. Sushi rolls at home are all about what you want in your sushi! Ingredients for sushi should be prepared into thin forms as much as possible. Rolls should be small and bite sized! Some ingredients, of course, lend themselves to this very easily, such as carrots and scallions and asparagus, but other foods can be manipulated to this form as well. Traditional ingredients for sushi rolls include:
Cucumbers, julienned
Carrots, julienned
Avocado, very thinly sliced
Scallion
Asparagus
Crab
Shrimp
Tuna
Other fish and fish roe
Not-so-traditional ingredients could include, but definitely are not limited to:
Red onion
Beets
Cream cheese
Spam
Red pepper
Baby spinach leaves
Tofu
Brown rice
Cooked egg
Teriyaki chicken
Prosciutto, and other sliced deli meats
Granny Smith apples
Just about anything!
Sushi rice Ingredients:
1 cup short-grained sushi rice
3/4 cup water
1 1/2 tablespoons vinegar
1 1/2 tablespoons lemon juice
1 tablespoons sugar
Directions:
Bring the rice and the water to a boil in a medium saucepan. Reduce heat to barely a simmer, cover and let cook until the water is absorbed.
In the meantime, bring the vinegar, lemon juice and sugar to a simmer in a small saucepan. Let simmer until the sugar is dissolved.
When the rice has absorbed all the water, pour in the hot vinegar, juice and sugar mixture. Stir well, cover and let sit for a bit. Let cool completely before using.
Sushi rolls You can make the sushi rice and prepare other ingredients in advance so you can have sushi rolls on demand. Ingredients:
Nori
Prepared sushi rice
Ingredients of your choice
Soy sauce
Pickled ginger
Wasabi
Directions:  
Lay a piece of nori out on a rolling mat or slightly damp clean kitchen towel. Place a bowl of clean water nearby.
Dip your fingers in the water, then use your fingers to spread a layer of rice over about three quarters of the nori, leaving a bare strip near the top.
Wipe off your fingers and place the ingredients about in the middle of the rice.
Using the edge of the mat or dish towel to help you, form the flat nori, rice and ingredients into a roll. Slice into bite sized pieces and serve with soy sauce, pickled ginger and wasabi.